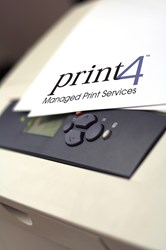 Users can view and very easily manage nearly every aspect of their print devices from that single screen.
Glassboro, New Jersey (PRWEB) November 08, 2013
NER Data Corporation (NER) announced today the release of user enhancements to the Print4 Online Management Portal -- the core application that provides resellers and end-users dynamic fleet management and optimization capabilities. This release gives users improved Client Management Console (CMC) features that further enhance MPS management of all devices.
Key Enhancements Include:

Comprehensive single-screen visibility of Contracted and Not-on-Contract (NOC) devices inside the CMC.
New single-click management of NOC devices from within the CMC.
Quick glance indicators identify when new devices are added to the network.
Improved device clone feature can be launched within the CMC for easy replication of device details from existing devices to newly added devices.
Cleaner user-interface layout with new option to collapse/expand search filters.
Additional navigation options to manage meters.
Distributor Role for partners to manage all their resellers and respective end-user clients through a single login.
"NER revolutionized remote device management when we created the Client Management Console. Through the CMC's consolidated point of control interface, users can view and very easily manage nearly every aspect of their print devices from that single screen," said Eric Austin, Vice President at NER.
The new CMC features provide even deeper functionalities through dynamic notifications and the ability to manage devices that are newly added to the system even if the additions were unknown by IT, operations, purchasing departments, or to those providing the MPS services.
Austin further adds, "We lead the market with dynamic fleet capabilities and this release brings important aspects that we managed in other parts of the application front and center. Resellers and end-users clearly see changes that could affect their bottom line and have direct access to take the necessary actions to control the environment."
The updates were automatically applied to the Print4 Online Portal and users received the additional benefits without having to take any action. Print4 Online is part of NER's complete Print4 MPS solution which offers resellers and their end-user clients over 20 different MPS programs, a cloud-based technology suite, predictive analytics for supplies with automated fulfillment, a comprehensive support structure, and a world-class printer service business. Additional Print4 information is available at http://www.nerdata.com.
About NER Data Corporation
NER Data Corporation is an innovative leader in the demanding, growing, and continually changing Managed Print and Data Center Infrastructure Management businesses. NER offers unique value-add solutions that truly solve business issues and allow reseller partners to develop and maintain stronger relationships with their end-users. Our approach has earned NER a loyal following with North America's leading Resellers, Integrators, VARS, and their Fortune 2000 end-user customers. For more information, visit http://www.nerdata.com.