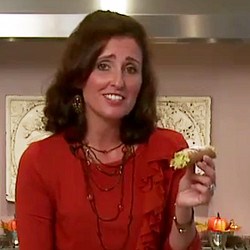 Cambridge, MA (PRWEB) November 06, 2013
Cook123.com is releasing autumn themed recipe content all about pumpkins - just in time to rescue those lonely pumpkins sitting on your doorstep.
Pumpkins can lend themselves to more than just pumpkin pie. After all, our autumn friends are a very low calorie vine fruit, and are rich in anti-oxidants, dietary fiber and vitamins - especially vitamin A. What's more is that they are versatile enough to serve as the focal point to a wide range of dishes and preparations. Cook123 has additionally found that optimal taste comes from using fresh pumpkin compared to using canned pumpkin, which is easier to work with.
Consider for example a breakfast recipe for pumpkin pancakes, which features just a few ingredients and many of your favorite seasonal spices like nutmeg and cinnamon. Pancakes are also a great way to introduce the vegetable to your kids. Go ahead a pour a bit of maple syrup over them for that added fall flavor.
Roasted Pumpkins with Vegetable Chili will do quite nicely as the weather continues to cool down. This recipe not only uses the pumpkin meat, but the carved our shell of the pumpkin is also used as the bowl for your fresh chili. This is a hearty vegetarian dish that can be made with ground beef or lamb as well.
For dessert, a pumpkin cannoli can't be beat. Watch the how-to video to see just how easy it is to prepare this dessert treat using both ricotta cheese and mascarpone, with pumpkin as the flavored filling. It's truly a unique take on the traditional cannoli.
Look for more creative recipe ideas from Cook123.com as we continue to grow our library of seasonal and year-round video content and recipes with fresh takes on traditional ideas.
About Cook123.com:
Cook123 is owned and operated by Media Program Network, Inc., a privately held content company created by media and Internet professionals, including veterans of the newspaper business and founders of The Food Network & Wine TV. With roots in Cambridge and MIT, Cook123 uses the best of high-end tech talent and analytics to create a personalized user experience. They have over 100,000 recipes and 1,000 broadcast-quality videos that reflect above all healthy and delicious food using today's culinary criteria such as local ingredients and sustainable farming techniques.