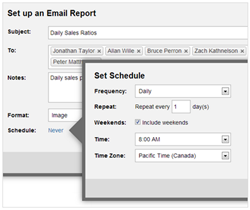 Scheduled email reports provide customers with a new, exciting way to present data to their users, customers, and colleagues.
Ottawa, Canada (PRWEB) November 08, 2013
Klipfolio Inc today announced the general availability of the latest round of updates to its business dashboard. This important release adds two new ways for Klipfolio customers to share insights with their colleagues and clients: scheduled email reporting and Klip embedding. The scheduled email reporting feature allows users to configure the dashboard to send out email reports of individual visualizations or entire dashboards. Klip embedding, on the other hand, allows users embed Klips on their website to display privately or publicly.
Allan Wille, CEO and President of Klipfolio, had this to say of the latest release: "Dashboards are designed to communicate business-critical information in a way that is succinct, actionable, and compelling. But data visualization isn't the whole story; the other part of the equation is how you get that information out to your team or your clients. Automated email reporting and Klip embedding provide our customers with unique opportunities to present data to end-users, customers, and colleagues to inspire a data-driven culture."
What is Klipfolio Dashboard?
Klipfolio is a platform for creating and sharing real-time business dashboards with data-driven, performance-oriented teams. The key to Klipfolio's success is the ability for users to create custom visualizations from data mashups using Klipfolio's intuitive visualization environment. For example, users can create a chart that integrates data pulled from Google Analytics, Salesforce, and SQL databases to generate truly unique business insights.
About Klipfolio
Founded in 2001, Klipfolio's mission is to increase the visibility of real-time data and key business metrics to help data-driven teams improve the performance and profitability of their organization. Trusted and relied upon by thousands of the best and brightest organizations around the world, Klipfolio is a cloud dashboard platform for building powerful real-time business dashboards. Klipfolio is backed by a simple, flexible data architecture that allows users to quickly connect to their data and use and reuse that data in multiple visualizations and dashboards. To learn more about how Klipfolio can help your data-driven team, visit Klipfolio.com.