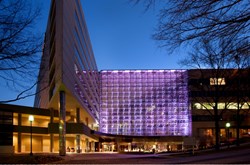 Greenville, SC (PRWEB) November 07, 2013
The publishers and editors of ConventionSouth, the national multimedia resource for planning events held in the South, presents Hyatt Regency Greenville with a 2014 Top New or Renovated Meeting Site Award.
"ConventionSouth readers are constantly seeking information on the newest and like-new meeting sites in the South in order to offer their attendees the most modern facilities available, and this is why we are honored to bestow Hyatt Regency Greenville with a Top New or Renovated Meeting Site Award," said ConventionSouth Associate Publisher Marlane Bundock. "After a lengthy review of what Hyatt Regency Greenville now has to offer meeting planners and attendees, we feel it indeed displays a superior commitment to providing groups with the top-of-the-line amenities and service that they require."
Hyatt Regency Greenville is among an elite list of 50 meeting facilities located across the South to receive this year's Top New or Renovated Meeting Site Award. As part of the recognition, Hyatt Regency Greenville will be featured as an award recipient in the December 2013 Awards Issue of ConventionSouth magazine. This exciting issue will also showcase some of the most talented meeting professionals in the nation as ConventionSouth also presents planners with its annual "Meeting Professionals To Watch" designation. "Featuring peer advice and trade secrets from our Meeting Professionals to Watch in 2013, our Awards Issue is one of the most popular must-read resources within the meetings industry," Bundock said, adding that the issue will also feature winners from ConventionSouth's annual Readers' Choice Awards.
A complete list of award winners can be found online at: http://www.conventionsouth.com/newrenovatedrca.htm.