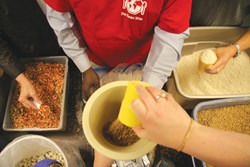 Wilmington, NC (PRWEB) November 16, 2013
Stop Hunger Now and the greater Cape Fear region are joining forces in the fight against hunger. More than 800 student and community volunteers will package meals for the world's hungry in Hanover Hall on the UNC-W campus on November 16, 2013, with the first shift starting at 9:00 A.M. Two additional shifts are planned for 12:00 P.M. and 3 P.M. Stop Hunger Now meal packaging events are a volunteer-based program that coordinates the streamlined packaging of highly nutritious dehydrated meals comprised of rice, soy, vegetables, flavoring, and 21 essential vitamins and minerals.
"At UNCW we believe in the importance of civic engagement and developing community leaders. We want to teach students to become engaged citizens and a way to role model that is to partner with the larger Wilmington community and learn about important issues, such as hunger, that affect us both locally and globally," said Jaime Russell, Assistant Director for the Office of Student Leadership and Engagement at UNCW. "For the first time, not only are we packaging meals for Stop Hunger Now in order to help address global hunger, but we are also collecting food donations for the Food Bank of Central and Eastern North Carolina to help meet local needs as well. This event is the perfect example of a true community-wide partnership that offers both philanthropic and community service opportunities."
Around the world, more than 868 million people lack adequate food and more than 25,000 die each day from hunger-related illnesses. Stop Hunger Now operates meal packaging locations in 18 cities throughout the U.S. and international locations in South Africa and Malaysia. New locations opened in 2013 include Dallas/Fort Worth, Salt Lake City and Italy. More than 300,000 volunteers from corporations, churches, schools and civic organizations have packaged Stop Hunger Now meals.
Founded in 1998, Stop Hunger Now has delivered aid and disaster relief supplies in the form of food, medical supplies, clothing, school supplies, and more to thousands of disaster victims and other hungry and vulnerable people in 65 countries.
This year marks the fifth Stop Hunger Now meal packaging to take place on UNC Wilmington campus since 2008. The first three were organized by a campus team, the most recent event have been organized by the local community.
"We can and should end hunger in our lifetime but the only way that will happen is if we all work together," stated Ray Buchanan, founder of Stop Hunger Now and a 1972 graduate of UNC-Wilmington. Buchanan went on to say, "Since my time as a student here, Wilmington has always been a giving and caring community."
For more information contact: Chris Singleton, Eastern NC Program Manager, Stop Hunger Now at 252-560-9437
In 2013, Stop Hunger Now is celebrating its 15th anniversary its ongoing work to create a movement to end hunger. More than 100,000,000 meals have been packaged and distributed with other life-saving aid to 65 countries impacting millions of lives.
The organization is driven by a vision of a world without hunger and a mission to end hunger in our lifetime by providing food and life-saving aid to the world's most vulnerable and by creating a global commitment to mobilize the necessary resources.
In its efforts to respond to emergency needs around the world, Stop Hunger Now receives and distributes significant donations of in-kind aid. These donations are large quantities of food, medicines, medical supplies and other such items as may be of use in fighting hunger and providing relief in a crisis.