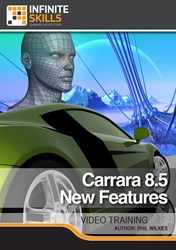 Learn the new features in Carrara 8.5 at your own speed.
(PRWEB) November 12, 2013
Software training firm Infinite Skills Inc. this week released its "Carrara 8.5 - New Features Tutorial," a course providing an expert-guided walkthrough of the new features and capabilities for experienced Carrara users.
Carrara is a general purpose 3D figure posing, modelling and landscape design animation and rendering application, with capabilities for both rigid and soft-body dynamics. Carrara 8.5 now supports both its traditional Poser figure and the DAZ 3D Genesis model, providing even more tools and organizational features to its already feature-rich toolset.
Infinite Skills Carrara 8.5 - New Features Tutorial offers a concise, and in-depth exploration of the all the important new features in the 8.5 edition, allowing experienced users to immediately begin using these high-powered tools in a design workflow.
Carrara 8.5 - New Features Video Training - Streaming
Course author Phil Wilkes has worked professionally in computer arts for more than 25 years. After learning his first gaming platform, he quickly produced two games for commercial release. He then moved over to 3D where he has several other publications to his credit including an animated movie that was distributed as an insert with a popular magazine. He has also written and trained extensively within the 3D modelling community.
Wilkes dives in right away to the core of the new Genesis palette, explaining the figure and its file system, as well as how to use presets, the parameter panel, and other features.
The course also covers working with smart content and the smart content management system, as well as the new light icons, and improvements to the sequencer, keyframing, and animation tools.
"Carrara has just been updated to version 8.5," Wilkes explains. "So we're going to have a look at the new features that allow you to use Genesis within Carrara."
Free demo videos and a full list of course contents can be found on the Carrara 8.5 - New Features training page of the Infinite Skills website: http://www.infiniteskills.com/training/carrara-8-5-new-features.html.
Infinite Skills offers its Carrara 8.5 - New Features Training Video either as a DVD or a direct download from the company website at a retail price of $24.95. Though the compatibility of programs varies, all Infinite Skills titles and formats are compatible with both Mac and Windows operating systems, and shipping is available around the globe. Additionally, Infinite Skills tutorials are supported by project files which correspond to examples in the videos.
About Infinite Skills Inc.
A leader in the field of software training, Infinite Skills designs its courses on a task-oriented model, teaching complex skills by providing hands-on examples and guiding users as they carry out essential functions. Infinite Skills offers a wide range of software titles available as DVDs, digital downloads, and in iPad editions. Infinite Skills now offers a subscription service, providing access to all its training content for a monthly fee, keeping with company's aim of delivering professional training to customers anywhere they want to learn.