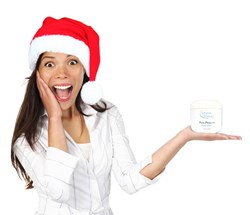 Pamper yourself or someone you love with this exceptional foot balm!
St. Petersburg, FL (PRWEB) November 09, 2013
The Pure Pleasure Foot Balm from Sublime Beauty® lives up to its name, says Kathy Heshelow, founder of the company.
"Thanks to the great ingredients, users of the foot balm get a rush from the invigorating ingredients, followed by relaxation as the other ingredients hydrate and heal," says Heshelow.
Menthol, eucalyptus, wintergreen and peppermint are among the invigorating ingredients; Shea butter, safflower oil, jojoba, sweet almond and aloe are among the moisturizing ingredients; and arnica plus tea tree oil are among the healing ingredients.
It is recommended to massage the cream into the feet and then put on socks for about 10 minutes to let it absorb and lock in the ingredients.
"This could be a great stocking stuffer of Hanukkah gift for mom, dad, athlete-brother or uncle," says Heshelow. "Pamper them!"
The foot balm is on sale now. Sublime Beauty® sells through Amazon, and purchasers can benefit from free shipping.