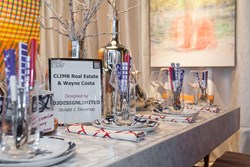 Each year, fantasy-scape tables are created by local interior designers and sponsored by local companies
San Francisco, CA (PRWEB) November 07, 2013
On October 29th and 30th, DINING BY DESIGN San Francisco 2013 featured awe-inspiring dinner table installations, including a table sponsored by Climb Real Estate Group. This two-day event includes Cocktails by Design, Coffee by Design, and a grand gala with a seated dinner and live and silent auctions. DINING BY DESIGN is organized by DIFFA (Design Industries Foundation Fighting AIDS), a national non-profit organization committed to helping local AIDS service organizations.
Each year, fantasy-scape tables are created by local interior designers and sponsored by local companies like Gensler, 7x7, Design Within Reach, Skout It, and California Home + Design. The City View at The Metreon was a new location for the annual event, which was previously held at The San Francisco Design Center. Since 1984, local event proceeds support low-income patients at the city's largest HIV/AIDS clinic, the UCSF Positive Health Program--also known as "Ward 86" --at San Francisco General Hospital.
Climb Real Estate Group funded a stunning Modern Scandinavian table designed by Donald J. Dewsnup, Principal Interior Designer of DJ Design Limited, and co-hosted by Wayne Costa.
"We are excited to be a sponsor of Dining by Design for our third year," said Michelle Balog, Managing Sales Director of Climb Real Estate. "Since all the proceeds go directly to San Francisco General Hospital in Potrero Hill, it's a natural fit to support the neighborhood that we live and work in." Climb Real Estate Group agents Sarah Berntson, Mark Choey, Matthew Woebcke, Gabriel Rojas, Marcella Bartolini, and Sherry Juneja also attended over the course of the two-day event.
Design Industries Foundation Fighting AIDS, also known as DIFFA, is one of the country's largest supporters of direct care for people living with HIV/AIDS and preventative education for those at risk. Merging care and commerce, supporters of DIFFA come from all fields of fine design and the visual arts, including architecture, fashion design, interior design, photography and consumer product design.
With fundraising efforts bolstered by strategic partnerships and unique events showcasing innovation and creativity, DIFFA has mobilized the immense resources of the design communities and granted over $40 million to hundreds of AIDS service organizations nationwide.