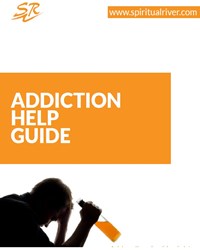 Call toll-free for treatment help: 1 (888) 724-3186.
(PRWEB) November 12, 2013
Patrick Meninga, Spiritual River columnist, is proud to announce his updated ebook "Addiction Help Guide: A Handbook of Insight for Addicts and Alcoholics" now available on the web at http://www.spiritualriver.com. This newly redesigned ebook includes vibrant colors and strong graphics on chapter headings representative of Spiritual River all the while staying true to its original content. As always, Meninga delivers encouraging words and personal insight throughout the touched-up pages of the ebook. What makes this ebook particularly unique is while some concepts may be familiar to those who read his infographics and ebooks, he adds his own material from his many other websites.
In this ebook, Meninga covers his bases, addressing topics from excuses and mistakes that could be made in early recovery to guiding addicts towards recovery. The ebook takes an individualistic approach to addiction recovery in the form of a straightforward how-to guidebook. In its pages, this ebook explains the differences between early recovery and long-term recovery, giving helpful tips on passing through the stages with the end goal of maintaining sobriety without relapse. Meninga urges in bold print, "It's not what you do, it's how you do it." Creative recovery is not about simply following the steps and hoping for good results, but about looking introspectively at growth and personal goals and doing everything to work hard and attain them.
Meninga never fails guide all with his versatile material and perspective, and in this ebook, his other material includes a section on how loved ones can help individuals realize their addiction and seek treatment help. Having been the addict and the helping hand, Meninga gives the reader a glimpse into the mindset of the addict as well as strategic tips on how to recognize, approach, and acknowledge signs of addiction. In this text, Meninga not only fulfills his goal of helping others, but goes above and beyond, extending his support through his words, reaching addicts and non-addicts alike.
Spiritual River is an addiction and recovery help website based in Delray Beach, FL. The makers and writers of Spiritual River are experts who understand the arduous process recovery and work to help struggling and recovering addicts through advice in its many forms. Its ebooks, infographics, and blog posts serve as the voice of addiction, as guides willing to assist on the journey towards recovery and staying clean.
To view this free ebook, please visit http://www.spiritualriver.com/new-ebook-about-addiction-and-creative-recovery-instant-download/.