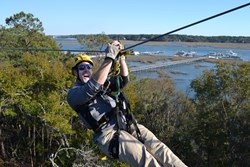 Park Place Equity helped uncover commercial lending solutions of which I wasn't even aware.
Hilton Head, SC (PRWEB) November 20, 2013
Every year more than 2.5 million people flock to Hilton Head Island to soak up the sun and enjoy the natural beauty and eco-friendly attractions of the Island – making tourism the largest industry for the some 37,000 local residents.
After witnessing what the recent economic downturn had done to the his friends and neighbors, local entrepreneur Roger Freedman came up with a plan to retain and even create more than 50 jobs in the local community. His plan would also create a regional eco-adventure that would attract more tourists to the area.
He decided to leverage the excess land at his Broad Creek Marina property and create Zipline Hilton Head, the only attraction of its kind in the area. The breathtaking journey through massive oaks and pine trees, of looking out on the glistening creek, quickly established itself as one of Hilton Head Island's most popular activities.
"Tourism is the lifeblood of the Island," said Freedman, Owner of Broad Creek Marina Adventures and Zipline Hilton Head. "I originally purchased the Marina back in 1993 and completed a huge expansion and renovation initiative that enabled us to add a number of both year-round and seasonal employees. Like most small businesses, the economic recession hit us hard in 2008, and I had to refinance our commercial into a high interest hedge fund loan in order to keep both the property, and even more importantly, my employees."
As the economy started its slow recovery, Freedman began searching for a way to refinance that expensive bridge loan, as well as obtain financing to continue the expansion of the zipline attraction. What he found was local commercial lenders couldn't comprehend the success story of Zipline Hilton Head. That coupled with a limited operating history, Zipline Hilton Head was a risk that most lenders would shy away from having just emerged from the one of our nation's worst financial crisis.
"Fortunately, I found Park Place Equity," said Freedman. "What I appreciate most about doing business with the Park Place Equity team is that they recognized the business I was building; Park Place Equity provided a commercial lending solution that refinanced a costly loan and provided expansion capital necessary to build on the Zipline's success."
Freedman explained, "Park Place Equity helped uncover commercial lending solutions of which I wasn't even aware. The challenges other commercial lenders couldn't understand were the challenges that Park Place knew exactly how to mitigate because they understood what I was trying to accomplish. They streamlined the lending process in order to position the Zipline for success in a market that isn't very welcoming to new and unique businesses."
The solution provided by Park Place Equity included refinancing the existing hedge fund loan, working capital and closing costs.
"The relationship with Roger Freedman and Broad Creek Marina Adventures is exactly the reason Park Place Equity is in business," stated Jason Bengert with Park Place Equity. "We are proud to offer commercial financing solutions to unique businesses that need funds to improve, grow and sustain their business and, in this case, the surrounding area too."