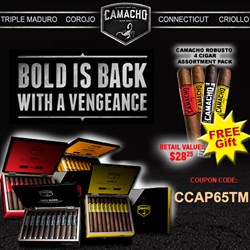 Enter the code CCAP65TM at checkout to get a Camacho Robusto 4 Pack Assortment Sampler at no extra cost.
Miami, FL (PRWEB) November 07, 2013
The revamped Camacho cigars are now available and in stock at Gotham Cigars. To get the word out on the newly branded Camacho Cigars, Gotham Cigars is giving away a 4 pack sampler with the purchase of any Camacho Criollo, Corojo, Connecticut or Triple Maduro Box of 20 cigars. The Camacho Robusto Assortment 4 Pack retails for $28.25, but for a limited time customers can get it at no extra cost to them. The Camacho assortment pack will allow customers to try each of the new cigars in the Robusto size. All customers have to do is enter the code CCAP65TM at checkout and the Camacho Robusto Assortment 4 Pack will be added to their cart at no charge.
Gotham sells the Camacho Cigars at a 10% cheaper price than the retail selling price, which is the lowest discounted price allowed by the manufacturer. The new and improved Camacho Cigars are available at Gotham Cigars in boxes of 20 ranging from $53.35 to $188.95 per box. Customers who shop at Gotham Cigars for the newly branded Camacho cigars will save just around $1 per stick, and with the Camacho Robusto Assortment 4 Pack free offer, customers will be given $28.25 worth of free cigars. This offer has a great deal of value to premium cigar smokers, as well as giving customers the opportunity to try the different Camacho cigars at no extra cost.
Camacho rebranded their cigars in June, 2013 to create The Bold Standard, where boldness meets balance. The packaging and overall look got a makeover, but that wasn't the only thing to change. The blend used in the Camacho was also changed a little in the effort to rebrand the already popular cigar brand. Gotham Cigars put together this offer to allow more premium cigar smokers to experience these newly vamped cigars, so take advantage of this great cigar deal and try them all today.
Gotham Cigars offers customers one of the country's largest and freshest selections of premium cigars, Machine Made Cigars, Filtered Cigars and Humidors. Gotham Cigars has received five-star ratings by the most trusted online comparison websites for its huge selection, fast shipping and great customer service; Gotham Cigars has become a favored destination for buying cigars and accessories online in the US. All of their products have been thoroughly inspected by their manufacturers prior to arriving at the facility to ensure the highest quality for their customers. To learn more, visit http://www.gothamcigars.com.