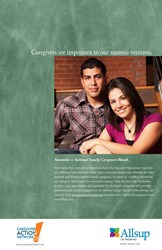 No longer is it just the wife and mother doing the caregiving. Now it's men as well as women; families of wounded veterans; even people in their teens and twenties caring for a loved one.
Belleville, Ill. (PRWEB) November 07, 2013
The Caregiver Action Network (CAN) and Allsup, a nationwide Social Security Disability Insurance representation company, are raising awareness of the importance of the estimated 90 million family caregivers in the U.S. during National Family Caregivers Month this November. This year's theme is "Family Caregivers—Now More Than Ever!"
Posters, including one that specifically recognizes family members caring for veterans of the Iraq and Afghanistan wars, are available for download at http://www.caregiveraction.org.
Each year, more Americans are caring for a loved one with a chronic condition, disability or the frailties of old age. As many as one million Americans are caring for former military members suffering from traumatic brain injury, post-traumatic stress disorder, or other wounds and illnesses.
"There are now so many types of family caregivers," said CAN CEO John Schall. "No longer is it just the wife and mother doing the caregiving. Now it's men as well as women; families of wounded veterans; even people in their teens and twenties caring for a loved one. It really spans the whole spectrum."
According to CAN:
Two out of every five adults are family caregivers. Thirty-nine 39 percent of all adult Americans care for a loved one who is sick or disabled-up from 30 percent in 2010.
Alzheimer's disease is driving the numbers up. More than 15 million family caregivers are providing care to more than 5 million loved ones with Alzheimer's.
The number of parents caring for children with special needs also is increasing because of the rise in cases of many childhood conditions.
Men are now almost as likely to be family caregivers as women are (37 percent of men; 40 percent of women).
More than a third (36 percent) of younger Americans between ages 18 and 29 are family caregivers.
Family caregiving is serious work. Almost half of family caregivers perform complex medical/nursing tasks for their loved ones. This includes managing multiple medications, providing wound care and operating specialized medical equipment.
Family caregivers are the backbone of the nation's long-term care system. Family caregivers provide $450 billion worth of unpaid care each year. That's more than total Medicaid funding and twice as much as homecare and nursing home services combined.
CAN and Allsup have collaborated on a number of resources that help caregivers understand their own and their loved one's rights and options regarding SSDI, Medicare, financial planning and access to community resources. These include a financial planning webinar and toolkit and SSDI and Medicare brochures.
Caregivers can obtain an SSDI eligibility screening for themselves or their loved ones by calling (888) 841-2126 or visiting Expert.Allsup.com.
ABOUT CAREGIVER ACTION NETWORK
The Caregiver Action Network is the nation's leading family caregiver organization working to improve the quality of life for the than 65 million Americans who care for loved ones with chronic conditions, disabilities, disease, or the frailties of old age. CAN serves a broad spectrum of family caregivers ranging from the parents of children with special needs, to the families and friends of wounded soldiers; from a young couple dealing with a diagnosis of MS, to adult children caring for parents with Alzheimer's disease. CAN (formerly the National Family Caregivers Association) is a non-profit organization providing education, peer support, and resources to family caregivers across the country free of charge.
ABOUT ALLSUP
Allsup is a nationwide provider of Social Security disability, veterans disability appeal, Medicare and Medicare Secondary Payer compliance services for individuals, employers and insurance carriers. Allsup professionals deliver specialized services supporting people with disabilities and seniors so they may lead lives that are as financially secure and as healthy as possible. Founded in 1984, the company is based in Belleville, Ill., near St. Louis. For more information, go to http://www.Allsup.com or visit Allsup on Facebook at http://www.facebook.com/Allsupinc.