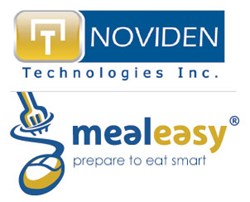 Studies show that making your own meals is not only healthier, but far cheaper as well.
Halifax, Nova Scotia (PRWEB) November 07, 2013
On November 1st approximately 23 million SNAP households will be forced to feed their families for less.
Public Law 111-226 (which was passed by Congress and signed by President Obama in August) has officially begun.
Based on calculations provided by the Thrifty Food Plan, the reduction in benefits is equivalent to removing 21 meals each month from a family of four.
Estimates based on USDA and US Census Bureau data indicate that a reduction in SNAP benefits will likely cause the most hardship on 22 million children and 9 million people who are elderly or seriously disabled.
"This is unacceptable," said George Borovan, health advocate and MealEasy/Noviden Technologies CEO. "This benefit cut will hurt many households. It's surprising that Congress and President Obama puts fiscal relief above the care and health of low income families."
Borovan believes that SNAP participants can better prepare for benefit cutbacks if they plan meals in advance. To assist them, MealEasy provides a program for those who want cost saving measures as well as healthy food choices for their families.
"Pre-planning your meals is an excellent way to save money. Studies show that making your own meals is not only healthier, but far cheaper as well. Meal planning lets you manage food costs, choose higher quality ingredients, and teach kids about the pleasures of healthy, tasty meals."
According to the Harvard School of Public Health, people who prepare food at home do eat healthier. MealEasy provides a sensible solution for cost-conscious families who need a quick and easy way to plan and prepare healthy inexpensive meals.
Users are able to select and prepare the foods they enjoy, balance their nutritional requirements and save money on food.
--------------------------------------------------------------------------
MealEasy.com (a brand of Noviden Technologies) is a family business owned and operated by George and Brent Borovan.
Since 2008, MealEasy.com has been on a mission to help and educate people about the foods they eat. They collaborate with health professionals and nutritional experts to ensure that nutritional guidelines are followed.
Much more than a recipe site, MealEasy will help you plan, shop and prepare deliciously healthy meals. All recipes are prepared by a certified chef and have been tested inside the MealEasy kitchen.
Users enjoy unrestricted use of the meal planner, automatic grocery list generator and an uncluttered advertisement free web application.
For more information, contact:
George Borovan
Noviden Technologies Inc.
902 4520505
http://www.noviden.com
http://www.mealeasy.com