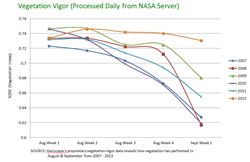 Using proprietary noise reduction techniques on the vegetation vigor variable, we're able to clean it up and process it in our regression model on a daily basis. - Dr. Steffen Mueller, Genscape's senior crop analyst
Louisville, KY (PRWEB) November 07, 2013
Independent corn crop analysts are faced with challenges this growing season that have provided statistically unusual growing conditions including May floods, August flash droughts, and an abnormally warm and long fall. These uncommon growing conditions have resulted in a wide range of crop harvest estimates from industry analysts, which to date, vary by over 1 billion bushels and range from 13.2 to 14.35 billion bushels. Incorporating all available data, the Genscape LandViewer yield forecast remains on the lower end of analysts' predictions at 13.57 billion bushels.
"Looking more closely at our NASA satellite data, we see unusual vegetative vigor which cannot solely be explained by late planting, but is most likely supported by advanced corn hybrids," said Dr. Steffen Mueller, Genscape's senior crop analyst. "Using proprietary noise reduction techniques on the vegetation vigor variable, we're able to clean it up and process it in our regression model on a daily basis. The result this week was a slightly higher forecast that remains on the low-end of analyst estimates."
After re-running its latest yield model, Genscape LandViewer slightly increased its corn predictions from 13.3 to 13.57 billion bushels. This estimate is reflective of LandViewer's extensive scouting efforts in problematic counties with high prevented planting acres. Unlike any other model in the industry, LandViewer also performs proprietary noise reduction techniques on its NASA satellite vegetation data on a daily basis, resulting in a more thorough and accurate variable in its models. The forecast remains on the lower range of analysts' average estimates.
The anticipated U.S. Department of Agriculture (USDA) corn production predictions are scheduled to be released on Friday, November 8, and industry experts are prepared to take the updated forecast with a grain of salt. Enduring impacts of the government shutdown will cause the USDA numbers to state a higher variance due to objective yield samples lost during the furloughs.
Additional information about the Genscape LandViewer model and expert consultations with Dr. Steffen Mueller are available by visiting: http://info.genscape.com/landviewer-nov.
About Genscape
Genscape is the leading global provider of energy information for commodity and financial markets. Utilizing patented technologies and proprietary algorithms, Genscape provides accurate and timely data on capacities, flow and utilization for all major energy commodities. With thousands of sophisticated energy monitors strategically deployed all over the world, Genscape is unique in its ability to measure and collect energy market fundamentals. These "measured actuals" are then transmitted to clients in real-time or near real-time. Genscape clients often gain first-mover advantage and increased market transparency to better optimize their positions. For more information, please visit: http://www.genscape.com.
For all press inquiries, please contact:
Molly Hislop
Marketing Communications Manager
Office: +1 617 790 0903
mhislop(at)genscape(dot)com