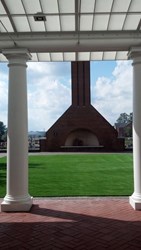 Vista, CA (PRWEB) November 09, 2013
EasyTurf Authorized Dealer Wildwood Landscapes in Round Hill, Va., recently installed 2,000 square feet of EasyTurf's Nutmeg Lush at West Virginia University's Erickson Alumni Center.
The center is home to hundreds of meetings, conferences, student and alumni events every year, and the high volume of foot traffic prevented staff from maintaining an acceptable lawn. After extensive research, school officials chose Wildwood Landscapes and the EasyTurf product.
"There was definitely a lot wear on the lawn. Students and staff had worn in paths through the grass," said Jason Dengler, Wildwood Landcapes Owner. "Alumni center officials wanted to keep the green look, but needed a very durable product – so, they chose EasyTurf."
EasyTurf is the proven, most durable synthetic grass in the industry. EasyTurf's advanced UV inhibitors resist fading and state-of-the-art artificial grass polymer formula resists tearing and shedding. The superior quality manufacturing allows EasyTurf to carry an industry-leading non-prorated warranty. Quality turf is only as good as the installation, and Dengler and his crew worked tirelessly to ensure the prestigious Erickson Alumni Grounds were flawless.
"We pretty much worked for an audience the entire time that we were out there," Dengler said. "People were very excited about the transformation and very impressed with EasyTurf's look and feel compared to real grass."
About EasyTurf:
In May 2010 EasyTurf, Inc., a long-time distributor of FieldTurf line of landscaping products and a recognized leader in the artificial grass industry, became the national brand of FieldTurf landscape, pets, playground, and golf artificial grass products. The partnership allowed FieldTurf to rapidly expand its existing dealer network and accelerate sales and distribution of FieldTurf landscape products on a national level to homeowners, municipalities, schools, businesses and the military.
EasyTurf is North America's preeminent source for landscaping, offering state-of-the-art synthetic lawns for realistic, beautiful, easy-care residential and commercial landscapes, providing specialty synthetic grasses engineered specifically for military surfaces, commercial and residential athletic and playground surfaces, putting greens, and for pet-friendly landscapes. EasyTurf product advancements in the synthetic grass industry have led to massive growth for the Vista, California-based leader in life-like artificial lawns that stay beautiful year round.
FieldTurf has long been the world leader in synthetic sports field cover; now EasyTurf joins them as the industry leader in residential and commercial synthetic turf markets.
Contact:
Jackie Luper, Director of Marketing
Phone: (760) 745-7026
Fax: (760) 888-2011