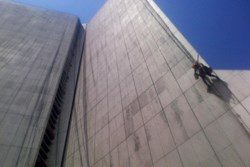 It's been a beautiful experience. We work well together – I got the support I needed and the price was right.
Chicago, IL (PRWEB) November 14, 2013
A luxury hotel is no acceptable place for a bat infestation, and the building's structural issues posed quite a challenge for Seun Aladejana, installer at Strickall Environmental Solutions International. Thankfully he's been able to solve this problem efficiently in a particularly difficult wing of the building with training and customized products provided by Bird-X, Inc., and is expanding the project scope to the rest of the hotel wings in upcoming months.
Mr. Aladejana explained his experience working with Bird-X in solving the Nigerian hotel's bat infestation, noting that, "because of the structural design of the building, the bats had become a real problem. It's unique to use netting generally used for birds in cases with bats, but due to the building issues, it made the most sense." This specific problem called for a creative solution.
"The Bird-X sales professionals provided training from the very beginning, and advised me on what products I needed – not only on the netting itself but on the tools required to install it efficiently. I met with them, told them about the job needs, asked them for solutions, and they gave me answers. Everything went smoothly."
Bird-X identified the proper sized netting for Mr. Aladejana's needs, the ¾ inch PR-Plus Premium Grade BirdNet. "They even helped me customize the tools I needed – one of the tools I required were customized eye bolt anchors, which normally only come in a 2 inch standard size. Due to the building's requirements, I needed 8 inch bolts, which didn't exist. Bird-X helped me to identify this need, and worked with an outside company to have these tools created to our specifications. Because of this, I was able to install the net."
Bird-X staff worked with Mr. Aladejana to go through building measurements and calculate how much netting and other materials he and Strickall Environmental Solutions would need for the job. Mr. Aladejana stated, "Bird-X made accurate calculations on how much netting we actually needed, so we never overpaid for unused materials – everything worked out very well."
Bird-X netting works just as well at keeping bats out of building structures as it works for birds, as well as used in situations calling to keep out other pest animals such as deer, coyotes, dogs, and other pest animals. It is a safe and lasting alternative to poisons or traps, and can prove to be a much better value than other methods in the long run.
"I recommend Bird-X to any installer," stated Mr. Aladejana. "We're currently preparing to cover the second wing of the hotel now. Everything is flowing smoothly and I will continue to use Bird-X in the future, and I recommend them to anyone with bird or bat problems. It's been a beautiful experience. We work well together – I got the support I needed and the price was right."
Bird-X, Inc. has been in the environmental pest control business since 1964 and sells worldwide in over 150 countries. Bird-X regularly works directly with installers and takes pride in providing solutions.