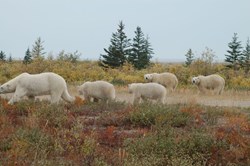 Go in with no expectations, and enjoy the moments you are offered by Mother Nature.
(PRWEB) November 08, 2013
International Wildlife Adventures has added a new trip to its extensive collection of top notch wildlife viewing experiences. Director of Sales Susie Green recently joined a group on the trip, "Mother and Cubs at Nanuk Lodge" and has written a blog post about her experience at this remote wilderness lodge on the shores of Hudson Bay in Manitoba, Canada, where visitors actually walk on the tundra among the bears and other wildlife. Read about it and see pictures from Nanuk Lodge here: Walking with the Polar Bears at Nanuk Lodge.
International Wildlife Adventures' President Randy Green was instrumental in launching the first polar bear viewing trips in Churchill, Manitoba in the early 1980's. Those trips were aboard the first generation of buggy-style vehicles that traveled across the tundra on designated trails to allow visitors the chance to see and photograph the wildlife, notably polar bears. Since then, the Greens have expanded their business to offer their clients wildlife viewing trips around the world.
Polar bear trips continue to be a huge part of their business. Besides the popular buggy-style trips, International Wildlife Adventures offers lodge based trips where travelers stay in comfortable, remote wilderness lodges and venture out on the tundra for wildlife viewing and photography with experienced guides.
Many people return every few years to see how the bears are adapting to their changing, warming environment. The addition of Nanuk Lodge completes International Wildlife Adventures' polar bear offerings, and gives return visitors the chance to see polar bears in a different stage of their lives - nurturing their young - during the warmer summer and fall months.
International Wildlife Adventures has been offering nature, photography, and diving trips worldwide since 1984.