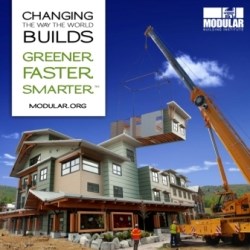 (PRWEB) November 07, 2013
The Modular Building Institute (MBI), the international trade association that has served commercial modular construction for 30 years, will exhibit at Greenbuild in Philadelphia, November 20-21.
Modular construction, the process of building a structure offsite in a factory, is an inherently green method of building because of reduced construction waste and minimal site disturbance. Beyond that, many builders are using the latest sustainable materials to take their buildings to a higher level of green. Countless modular facilities have achieved qualification as LEED, CHPS and net zero, with some certified as passive house.
MBI is also a sponsor of a tour of modular buildings on November 18 as part of Greenbuild. "Making it Modular: Innovations in Building Design & Construction" will take attendees into three eco-friendly multifamily prefab buildings, one of which is LEED and another passive house.
Even without going on the tour, Greenbuild attendees will have the chance to see a modular building first hand. In collaboration with Building, Design & Construction and various sponsors, NRB Inc. – one of MBI's member companies – will display its Pedia-Pod, a kid friendly pediatric treatment facility. The 14' x 42' module showcases a range of interior finishes, a specialized bathroom, treatment/recovery area, work station for medical staff and a waiting area that doubles as a children's play section.
Green features include high recycled content, sustainable insulation, high-performance windows, energy-efficient lighting and controls, water saving plumbing fixtures, a white roof membrane with a SRI index of 99, zero-VOC paints, FSC components and more. The Pedia-Pod concept and its design principles can be applied to any type of health care facility, and are indicative of the current capabilities of modular construction.
If you are attending Greenbuild, be sure to stop by and talk with MBI in the non-profit section and also visit NRB's Pedia-Pod in the BD&C booth. If you don't have plans to attend, but would like to visit the exhibit hall, you may request a free expo hall pass from MBI (a $150 value).
About MBI
Changing the Way the World Builds: Greener, Faster, Smarter. The Modular Building Institute is the international nonprofit trade association that has served the modular construction industry for 30 years. Members are suppliers, manufacturers and contractors involved in all aspects of modular projects -- from complex multistory solutions to temporary accommodations. As the voice of commercial modular construction, MBI expands the use of off-site construction through innovative construction practices, outreach, education to the construction community and customers, and recognition of high-quality modular designs and facilities. For more information on modular construction, visit http://www.modular.org.