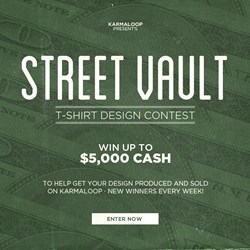 Boston, MA (PRWEB) November 07, 2013
Global Streetwear e-retailer, Karmaloop, announced today a chance for artists across the world to win big and get their designs in front of the millions of streetwear fanatics who visit Karmaloop.com monthly.
The Street Vault T-Shirt Contest, hosted via Facebook, launched Friday, November 1st, 2013 on Karmaloop.com. To enter, artists will upload their best t-shirt design through Facebook, Twitter, or Instagram using the hashtag #KLSTREETVAULT and will be judged on a crowd-sourced, voting basis from Karmaloop fans. One (1) lucky grand prize winner will be awards $5,000 CASH as well as the opportunity to sell their winning design on Karmaloop.com and brand support from Karmaloop. First and second runner ups will also be awarded the chance to sell their designs on Karmaloop.com as well as a $1,000 and $500 gift code to Karmaloop.com, respectively.
"The ethos and groundwork of streetwear is that any artist, famous or not, can project their creativity and ideas to the rest of the world," says Karmaloop CEO and Founder, Greg Selkoe. "It's important to me and the rest of the Karmaloop staff to find ways to support new, up-and-coming artists. We're all excited to see what the competition brings for this."
The deadline to enter Karmaloop's Street Vault T-Shirt Contest is midnight EST on December 31st, 2013. For more information, please visit Facebook.com/Karmaloop.