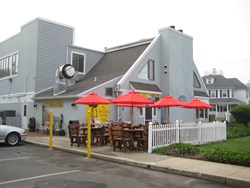 MONMOUTH BEACH, NJ (PRWEB) November 11, 2013
Where can you get scrumptious meals that are healthy, low fat, gluten free and you can bring your dog? My Kitchen Witch located in Monmouth Beach, NJ offers just that. Owner and executive chef, Karyn Jarmer creates nutritious dishes in her small Jersey Shore restaurant while continuing to work with well-known entertainers in her catering business.
With nutrition always on her brain, Jarmer developed a dining experience that everyone can enjoy. Open for breakfast and lunch, The Kitchen Witch makes eating healthy easy with their grab n' go selections at the Magical Market and Magic Potion Juice Bar that have a variety of smoothies and juices for a daily dose of fruits and vegetables, and a full service dining area. "Every day we would get involved in something else," says Jarmer. "There are great bars in the area with different food but what we do is different. The need is here." The eatery also has an outdoor patio area that seats up to forty people and is dog-friendly.
Growing up in New Jersey and having to transition to the New York City lifestyle, there were many things that Jarmer looked forward to upon settling back in New Jersey. "Being in the city for so long, I missed the community and family so I wanted to make the restaurant more customer-friendly," continues Jarmer. "You don't get to see it like that in the city." Her decision to relocate was also due to the tragic terrorist attack on the Twin Towers on September 11, 2001. "After 9/11 it became very difficult mentally, spiritually and emotionally. That was the worst thing ever," states Jarmer. "I lived in one of the biggest cities in the world and I never felt so alone."
Eight years after opening My Kitchen Witch, Hurricane Sandy came through devastating much of the Jersey Shore causing the restaurant to close for six months. "There was never a doubt that I wouldn't leave here and rebuild. "We were getting a lot of people who were coming by not for food but to make sure that we were okay and to see the damage. This is why I picked this town, because of this community." When asked if she would consider expanding her restaurant to other locations, she responded without hesitation. "I would expand more south," said Jarmer, in an effort to escape the flood zones. "Bad things happen everywhere."
Jarmer has certainly made a name for herself in the food and beverage industry with her catering business. My Kitchen Witch, formerly known as Bedrock Catering, has bounced out of the mouths of many respected people in entertainment. With a long list of talented clients, she has had the pleasure of cooking for performers such as Elton John, Beyonce and John Mayer to name a few. She even got the opportunity to cater for the Pope. "The restaurant was slow in the beginning and when I catered for the Pope that put me back in business," says Jarmer. "It's crazy how even though I'm so far away, people are still calling me to cater."
Everything from her food to her design is completely original. The entire menu contains homemade comfort food including a healthier spin on desserts. All the art painted on the tables are hand-painted by a local artist. There are also pictures and crafts hanging from the walls that were gifts, mostly emulating the film, The Wizard of Oz.
"Catering is so much different than owning a restaurant. With catering I know exactly how much food I will need and how many people I will be serving. At the restaurant you don't know what the day is going to be like, but I love it." Quoting her favorite line from The Wizard of Oz, "there's no place like home."
My Kitchen Witch is open seven days a week from 8:00 am – 2:30 pm at 29 Beach Road, Monmouth Beach, NJ. Dinner is served on Friday evenings until 9:00 pm. At $25 a person, dinner includes a 3-course meal by candlelight with unlimited portions that change weekly. Alcohol is BYOB only. Reservations are preferred. Visit the restaurant's website for additional information http://www.mykitchenwitch.com/.
About Bielat Santore & Company
Bielat Santore & Company is an established commercial real estate firm. The company's expertise lies chiefly within the restaurant and hospitality industry, specializing in the sale of restaurants and other food and beverage real estate businesses. Since 1978, the principals of Bielat Santore & Company, Barry Bielat and Richard Santore, have sold more restaurants and similar type properties in New Jersey than any other real estate company. Furthermore, the firm has secured in excess of $500,000,000 in financing to facilitate these transactions. Visit the company's website, http://www.123bsc.com for the latest in new listings, property searches, available land, market data, financing trends, RSS feeds, press releases and more.