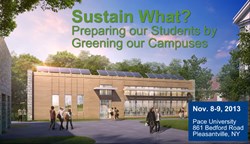 Pleasantville, NY (PRWEB) November 06, 2013
Event: Tenth Annual Conference of the Environmental Consortium of Colleges & Universities
Date and Time: Fri., Nov. 8, 8:30a.m. – 7p.m.; Sat., Nov. 9, 8:30a.m. – 4:30p.m.
Location: Pace University, Kessel Student Center, 861 Bedford Road, Pleasantville, NY, entrance 3.
"Environmental sustainability" may be a catch phrase of the 21st century, but who knows what it really means? The Environmental Consortium of Colleges & Universities will wrestle with that problem at its tenth annual conference Friday and Saturday. On hand to lend guidance will be James Gustave Speth, former adviser to President Bill Clinton and founder of the World Resources Institute. 72 year-old Speth made headlines in August 2010 when he was arrested at the White House for protesting the Keystone XL Pipeline.
"Our colleges and universities occupy more than 40,000 acres of land in the Hudson-Mohawk watershed, and employ, teach and house more than 1 million people in over 100 different locations," said Michelle Land, director of both the Pace Academy for Applied Environmental Studies and the Environmental Consortium. "Our job is to make sense of what 'environmental sustainability' means to that complex picture."
David Hales, President of Second Nature, will deliver the opening keynote on Fri., Nov. 8. Prior to assuming this post, Hales was President of College of the Atlantic, the first U.S. institution of higher education to be a "NetZero" emitter of greenhouse gases.
James Gustave "Gus" Speth, Professor of Law, Vermont Law School will be presented with the Environmental Consortium's "The Great Work Award, in honor of Thomas Berry" and deliver a keynote on Saturday.
Michelle Land will give welcome remarks.
The conference is open to the public. The rate for people affiliated with institutions in the Environmental Consortium is $20 for students ($30 for non-members), $100 for members ($125 for non-members). Group discounts and single day registrations available ($50 for members, $65 for non-members). The fee includes admission to conference, meals and breaks, Friday reception, dinner and music, exhibitor expo, and poster session. Media admission is by press pass.
Other conference highlights:

Breakout sessions include discussions of various topics on sustainability in higher education.
Plenaries: "Preparing our Campuses for an Uncertain Future" (Fri.) moderated by Andrew Revkin, New York Times Dot Earth blogger and Senior Fellow of Environmental Understanding at Pace; and "The Middlebury Campus as a Learning Laboratory via the Classroom and the Boardroom" (Sat.) moderated by Jack Byrne, Director, Office of Sustainability Integration at Middlebury College.
Special Musical Guests: Andy Revkin's Breakneck Ridge Revue
Poster Session: Campus greening case studies and scholarly or creative work dedicated to environmental topics in the Hudson-Mohawk River Watershed.
Environmental Consortium of Colleges & Universities:
The Environmental Consortium of Colleges & Universities was established in 2004 to advance our understanding of the cultural, social, political, economic and natural factors affecting the region, and currently has 60 member institutions. By promoting collaboration among its members, the Consortium works to provide ecosystem-based curricular and co-curricular programming aimed at improving the health of the regional ecosystem.
The mission of the Environmental Consortium is to harness higher education's intellectual and physical resources to advance regional, ecosystem-based environmental research, teaching, and learning with a special emphasis on the greater Hudson-Mohawk River watershed.
Spearheaded and hosted by Pace University, the Consortium's headquarters is situated within the Pace Academy for Applied Environmental Studies in Pleasantville, New York. Among Pace Academy's stated goals is to externally apply the university's strengths to local and global environmental problems. As a testament to its commitment to interdisciplinary pedagogy, scholarship and service, the Academy provides essential administrative support that grounds the Consortium's programs.
Pace Academy for Applied Environmental Studies: Pace Academy is the first of several centers envisioned by Pace University's President, Stephen J. Friedman, to promote high-level collaborative and interdisciplinary programming in key thematic, academic areas throughout the University. The Academy is a freestanding institute that renews and deepens the University's long-standing commitment to environmental research, scholarship, and service.
Pace Academy for Applied Environmental Studies builds on its predecessor, the Pace Academy for the Environment, created in 2002 and known for regional leadership spearheading the formation of the Environmental Consortium of Colleges & Universities and serving as the incubation office for the Beacon Institute for Rivers and Estuaries, which concentrates on applied technological innovation.
The current breadth and depth of Pace University's environmental programming is evidenced by globally recognized undergraduate, graduate, and professional degree programs augmented by related curricular, co-curricular, experiential, and service programs centered on the environment.
Media Contact: Cara Cea, 914-906-9680, ccea(at)pace(dot)edu