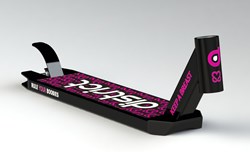 'Once again, immersive youth marketing came through with a perfect brand partnership to extend our reach in a fast growing youth community. We're confident this gorgeous product will retail well.' - Shaney Jo Darden, Founder & Global CEO KAB
(PRWEB) November 07, 2013
immersive youth marketing is proud to announce the launch of its partnership with District Freestyle Scooter Co. (District) and The Keep A Breast Foundation™ (KAB) to support breast cancer prevention through art, education, awareness and action. This collaboration will launch with a co-branded special edition "I Love Boobies" freestyle scooter, with proceeds from the sales going to support the foundation and educational programs.
KAB's mission is to eradicate breast cancer for future generations. Educating youth on early detection is a key part of every program; this collaboration will allow KAB to reach out to the fast growing number of young freestyle scooter enthusiasts worldwide.
"We fully support all of the Keep A Breast Foundation's work and creativity," said Gregg Witt, Chief Engagement Officer at immersive youth marketing. "Education on breast cancer awareness begins with young people knowing how to easily check themselves. This collab will allow us to bring KAB's message into a fast growing action sports community and educate many young people about early detection while raising funds for KAB's programs."
District, one of the leading brands in the scooter market, will produce and distribute through their international network, its popular DK2 scooter deck model featuring KAB's name and logo, as well as "Rule Your Boobies," a slogan mixing the famous KAB motto "I Love Boobies" and District's popular campaign "Rule Your District" on a black deck with pink detailing. The stylish look of this limited edition product is bound to be a huge success and positively impact young people worldwide.
"Through the years we have collaborated with many brands, associations and events within the surfing, skating, snowboarding, music and art realm" declared Shaney Jo Darden founder and Global CEO of KAB, "thanks to this collaboration we will extend our reach and education efforts to the growing sport of freestyle scootering while adding a gorgeous new product to our line of apparel and accessories."
The "Rule Your Boobies" scooter is expected to hit the market in early 2014 and raise thousands of dollars for the foundation.
About immersive youth marketing
immersive youth marketing, founded in 1999, is a youth marketing agency division of ParkerWhite brand interactive based in San Diego, CA. The agency helps brands target tween, teen and young adult consumers through cohesive solutions that create awareness, drive sales, and grow brand advocacy. Immersive has executed successful youth marketing programs for some of the worlds leading brands including: Qualcomm, Nissan, FunnyOrDie, Hansens Natural, District Freestyle Scooter Co., Six Flags Theme Parks, Partnership for a Drug-Free America, FRESH Natural Spring Water, U.S. Air Force, OLLO Footwear and BodyGlove. YouthVine® is immersive's powerful word of mouth network of savvy youth consumers. They provide our client partners a valuable conduit to gain insights, co-create ideas, build client-owned advisory groups, jump start campaigns and accelerate demand for consumer products. YouthVine® has spread authentic word of mouth to millions of young consumers. For more information, visit http://www.immersiveyouthmarketing.com or follow us on Twitter @immersiveyouth.
About Keep A Breast
The Keep A Breast Foundation's (KAB) Mission is to help eradicate breast cancer by exposing young people to methods of prevention, early detection and support. Through art events, educational programs and fundraising efforts, we seek to increase breast cancer awareness among young people so they are better equipped to make choices and develop habits that will benefit their long-term health and well-being. For more information, go to http://www.keep-a-breast.org.
About District
District Freestyle Scooter Co. was founded in 2007 by FSP Group as the pioneering brand of the modern freestyle scooter movement, setting the standard for scooter design, manufacturing and performance. District currently has over 500 dealer locations in the United States and global distribution in 30 countries and growing. Notable industry innovation milestones include being first brand to develop freestyle scooter parts & accessories (2007), invention of the first ever slide-in break for noiseless riding (2008), and engineering the lightest & strongest deck ever made (2009). The District pro team encompasses nine of the best pro riders from around the world, including Brandon James (UK), Cam Ward (USA), Chris Hart (Australia), Coedie Donovan (Australia), Fernando Young (Peru), Helmeri Pirinen (Finland), Michael Goumaz (Switzerland), Rory Coe (Australia) and Tom Mattingly (USA). For more info please visit http://www.districtscoot.com.