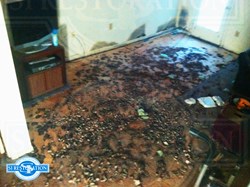 ...for as much joy and happiness pregnancy delivers to mothers-to-be, being pregnant can also present unseen dangers to future moms.
Mount Laurel, New Jersey (PRWEB) November 13, 2013
Planning for motherhood can be very exciting and rewarding. However, for as much joy and happiness pregnancy delivers to mothers-to-be, being pregnant can also present unseen dangers to future moms. Pregnancy actually lowers a woman's immune system, making her more susceptible to common bacterial, viral, and parasitic infections. Most future mothers are willing to do whatever is necessary to keep their living space clean and healthy for their new baby. One activity that keeps homes and living spaces sanitary and healthy for soon-to-be moms can also cause severe illness and symptoms that could include brain inflammation. This activity is cleaning out the cat litter box.
Aside from highly concentrated doses of ammonia that are found in cat urine, the danger present in litter boxes comes in the form of Toxoplasma gondii, a parasitic entity found in cat feces. Those with weakened immune systems, especially pregnant women, who expose themselves to cat feces on a regular basis can contract the parasite. According to a recent report by Maggle Fox with NBC News entitled, "Cat poop parasite controls minds early – and permanently, study finds." Along with causing Encephalitis, a disorder which causes brain inflammation, Toxoplasma gondii can cause simple symptoms like imbalance and clumsiness and more severe symptoms like schizophrenia and bipolar disease.
Address Our Mess, a leading authority in biohazard removal and sanitation, have seen firsthand during routine hoarding cleaning projects just how dangerous exposure to cat feces can be. Pregnant women and those with immune deficiencies do not have to be considered animal hoarding cases in order to suffer from cat feces exposure. Cat feces and urine is common amongst homes plagued from simple organization and sorting issues as well as homes in need of clutter cleanup.
Pregnancy in a typical living space can be challenging by itself. Choosing to carry out pregnancy in a home plagued by unsanitary conditions is unsafe on multiple levels. Along with the possibility of contracting the Toxoplasma gondii parasite, pregnant women living in hoarding-like conditions can also be susceptible to diseases like hepatitis, E. coli, salmonella, and other parasites like giardia. Pregnant women who contract these diseases will endanger themselves and their unborn child.
In a recent article published by Address Our Mess entitled, "Heavy Duty House Cleaning," experts suggest that pregnant women not wait until the fabled "nesting stage" to ensure their home is thoroughly sanitized and clean. In addition to organizing and sorting piles of clutter in a home where cats and other animals can hide their indoor bathroom use, deep cleaning and sterilization is necessary to make sure that mother and baby can enjoy a healthy atmosphere. Hiring a professional cleaning service to handle these biohazards is the best way to make sure all harmful byproducts are eradicated for the protection of mother and child.