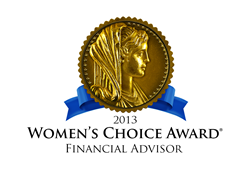 I love working with women... they are eager to listen and expand their understanding.
Columbia, MD (PRWEB) November 11, 2013
As the leading advocate for female consumers, WomenCertified®, Inc. is pleased to announce that Lyn A. Dippel, President and CEO of FAI Wealth Management, has received the Women's Choice Award® for Financial Advisors based on rigorous research, 17 objective criteria including a client survey to obtain feedback regarding service and practices.
The Women's Choice Award is the only recognition program for well-qualified advisors who are committed to the women's market and serving their female clients. Achieving this award reaffirms the commitment FAI Wealth Management has to extraordinary service in addressing the financial needs of women and their families. "I love working with women. Because women often come in with slightly less confidence than men, they are eager to listen and expand their understanding. They are typically more discerning and make thoughtful decisions. It is fulfilling to watch them succeed financially and feel empowered."
WomenCertified, originator of the Women's Choice Award, was created by Delia Passi, the leading advocate for female consumers and former group publisher of Working Woman and Working Mother magazines. In partnership with WIFE.org (Women's Institute for Financial Education) co-founders Ginita Wall and Candace Bahr, Delia has created the Women's Choice Award for Financial Advisors in an effort to help women identify those advisors who are committed to providing quality service. The award allows this elite group of advisors to showcase their commitment to the women's market, while giving potential clients a starting point for entrusting their finances to an advisor.
Women currently control 51 percent of all wealth in the United States, and, according to the Federal Reserve, this number is projected to reach 66% by 2020.* As the financial industry wakes up to the fact that a great majority of the female population are seeking advisors they can trust, Passi, Bahr and Wall have already created the solution. This powerful, national initiative distinguishes advisors who support female consumers in their quest for financial education.
ABOUT FIRM/ADVISOR
For 26 years, FAI Wealth Management has been focused on combining strategic investment thinking with highly personalized financial planning. FAI assists families impacted by significant financial events such as changing careers, preparing for the sale of a business, facing divorce, the death of a spouse or stock option deadlines. Our esteemed team of fee-only advisors has a combined 150+ years of experience in financial planning, investment analysis and wealth management. Currently, FAI manages over $300M in assets for more than 200 families.
Lyn Dippel has been a key member of FAI Wealth Management since 2004. Lyn serves FAI as President, Lead Advisor, Chief Compliance Officer and is a member of the Investment Committee. As Lead Advisor, Lyn provides retirement planning, portfolio management and legacy planning. She has a sub specialty working with women, divorced and widowed individuals. Lyn is also a primary member of the FAI Investment Committee focused on helping build portfolios tailored to meet each individual client's goals.
Lyn holds a law degree from George Mason University School of Law, a BA from the University of Richmond and is a current member of the Virginia State Bar. Additionally, Lyn holds the prestigious CERTIFIED FINANCIAL PLANNER™ certification and is an active member of the National Association of Personal Financial Advisors (NAPFA), the Financial Planning Association (FPA) of Maryland and the Baltimore Estate Planning Council. During her time with FAI, Lyn's expertise and opinions have been sought by several publications including Kiplinger's, Smart Money Magazine and Business Week.
For more information, visit FAI's website at http://www.investfai.com or email info(at)investfai(dot)com.
ABOUT WOMEN'S CHOICE AWARD
The Women's Choice Award Financial Advisor Program is based on 17 objective criteria associated with providing quality service to women clients such as credentials, experience and a favorable regulatory history, among other factors. Financial advisors do not pay a fee to be considered or placed on the final list of Women's Choice Award® Financial Advisors, though they may have paid a basic program fee to cover the cost of comprehensive review and client survey.
WomenCertified®, home to the Women's Choice Awards, awards businesses, brands and services based on high recommendation ratings by female consumers. WomenCertified represents the collective voice of women so they can help each other identify businesses that deserve their loyalty and referrals. To learn more, visit http://www.womenschoiceaward.com or go to: http://www.wife.org/womens-choice-award/finding-a-financial-advisor/.
ABOUT WIFE.ORG
The Women's Institute for Financial Education (WIFE.org) is the oldest non-profit organization dedicated to providing financial education to women in their quest for financial independence. It was founded in 1988 by wealth management experts and KPBS Heroes Candace Bahr and Ginita Wall, who have a lifelong mission of helping women connect with resources that help them prosper and grow financially. Visit http://www.wife.org.
*http://www.forbes.com/sites/sashagalbraith/2011/03/18/financial-services-the-industry-women-love-to-hate/