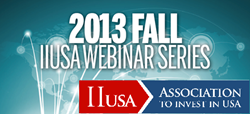 This year's Fall Webinar Series is part of IIUSA's commitment to delivering timely EB-5 Regional Center industry intelligence.
Chicago, IL (PRWEB) November 08, 2013
The Association to Invest in the USA (IIUSA), the national not-for-profit industry trade association for the EB-5 Regional Center Program (the "Program") announced a four-part Fall Webinar Series from October to December offering guidance to industry stakeholders on crucial elements such as financing, immigration and compliance. The first webinar, titled "Tools for EB-5 Due Diligence", took place on October 29th and is now available for viewing on-demand in the IIUSA Marketplace store.
Part two of IIUSA's Fall 2013 Webinar Series, scheduled for November 12 at 3 p.m. EST, is titled "Bridge Financing & Escrow Options" and will consider the financing options available to EB-5 projects. Confirmed speakers for the event include Robert Divine, IIUSA Vice President and Chairman of the Global Immigration Group at Baker Donelson Bearman Caldwell & Berkowitz, PC, Reid Thomas, Executive Vice President of Worldwide Sales and Marketing for NES Financial and Gina Nisbeth, Director of Citigroup's Structured Lending and Investments Group.
The third installment, on November 19th at 1 p.m. EST, will be a practical workshop for how to approach Regional Center I-924A filings which must be filed on an annual basis with the US Citizen and Immigration Services (USCIS) to demonstrate compliance with previously submitted business plans. The last webinar in the series is slated for December 17th at 3 p.m. EST is titled "2013 Year in Review and What's Ahead in 2014" and will be taking a close look into the growth trends of the EB-5 industry over the past 12 months while also discussing the opportunities and challenges that lie ahead for the industry as a whole. We will announce speakers for the webinars on our blog as they confirm their participation.
"This year's Fall Webinar Series is part of IIUSA's commitment to delivering timely EB-5 Regional Center industry intelligence to our members and the public at large on the most relevant topics for our constituency," said IIUSA Executive Director, Peter D. Joseph. "It is our responsibility as the industry trade association to not only address these specific issues, but also put it all in context and build collective knowledge among our membership. That is why I'm so excited about this year's series."
Attendance is $50 for members and $100 for non-members and Continuing Legal Education (CLE) credits are available. Additionally, IIUSA Members who sign up for each of the first three webinars __title__ ] will be registered for the final webinar free of charge. IIUSA now also offers on demand viewing for those who cannot attend the live webinars. Visit the registration page for more details on this feature.