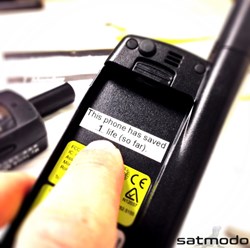 When you [...] fail to educate your customers on how to actually use the equipment, [...] you are putting people at serious risk of injury and death.
San Diego, CA (PRWEB) November 07, 2013
Satmodo is a new company built on years of experience in the satellite phone industry. That experience has shown that, more than anything else, the leading cause of unhappy satellite phone customers is a complete lack of proper training on the right way to use the equipment.
Satmodo is taking steps to correct this problem. Today marks the release of the first video in a series that will tackle the most common issues faced by sat phone users. This first installment covers all the basics for successfully making and receiving calls to and from anywhere in the world, even when you are on the move, without any problems. It is the perfect quick reference for anyone that owns or plans to use an Iridium satellite phone, particularly the most popular models highlighted in the video: the 9505A, 9555, and 9575 Extreme.
The two biggest motivators for making this video are giving Satmodo customers, and all satellite phone subscribers, the best possible user experience and the highest level of security. Satmodo's sales director, Mike Mikha, points out, "When you rent or sell a service designed to save lives, but then fail to educate your customers on how to actually use the equipment, you are defeating the purpose and you are putting people at serious risk of injury and death."
Every day satellite phones are more widely used and Satmodo has clients with a growing list of interests like off-road racers, hikers & campers, hunters & fishers, rescue workers & first responders, as well as military men and women, just to name a few. It is Satmodo's goal to make sure that everyone that has a sat phone knows how to use it, so that they can stay both safe and connected. The Satellite Phones 101 video is a great place to start.
Special thanks go out to PCI Race Radios and Race Dezert for their continued support and encouragement during the production of the this video, and for sharing Satmodo's goal to make off-road racing as safe and entertaining as possible, while educating the rest of the world's sat phone users too.
About Satmodo:
Satmodo is a San Diego based company offering satellite phones and internet nationwide for purchase or rental starting as low as $24.99 a week. Our service is powered by Iridium, Globalstar, and Inmarsat, providing our customers with reliable worldwide coverage. We are open 24/7/365. We can provide same day delivery or pick up. Satmodo also offers discounts for large orders.
Call Satmodo today at 1(800)279-2366 or visit them on the web at http://www.satmodo.com.