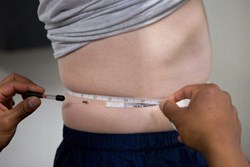 I lost 4 inches from my waist to finally pass the tape test.
Las Vegas, NV (PRWEB) November 18, 2013
MSN Now recently highlighted the influx of soldiers struggling to pass physical tests which put their jobs at risk and slows down their potential for promotions. These tests include strength and endurance tests as well as the dreaded "Tape Test" that has proven a challenge for many troops.
MyShape Lipo has seen nearly a 50% increase in military personnel seeking liposuction to reduce their waist size in the past 3 months. Troops using liposuction to pass their tape test is a growing trend, which is gaining momentum with the growing number of successes achieved using this procedure.
"We've been helping active military pass the tape test with great success," says Trevor Schmidt PA-C the liposuction specialist at MyShape Lipo. "They are flying in from around the country for our services. We have even had multiple troops calling from Iraq and Afghanistan to schedule their procedure when they are state side again."
Liposuction is a highly effective means of removing large quantities of fat in a given area, which can dramatically reduce measurements. Many people are able to reduce their waist measurement by as much as 4-6 inches after a single procedure. The amount of change is highly dependent on the amount of fat in the area that can be removed.
Per an article released 10/28/13 from the NY Daily News, "the number of Army soldiers booted for being overweight has jumped tenfold in the past five years from 168 in 2008 to 1,815." The Defense Department officials say that the test helps to ensure that troops are ready for the rigors of combat.
"I lost 4 inches from my waist and finally passed the tape test," says Steve C. an Air Force Dentist. "I've struggled with the test for years, it's a relief to have that stress off my shoulders."
In some cases the effects of diet and exercise begin to have less of an effect on weight loss. These individuals now have an option to physically remove the fat in their problem area in a single treatment. The fat loss is immediate, although it is recommended to have liposuction at least one month prior to the tape test to allow for healing time.
MyShape Lipo is a liposuction specialty clinic located in Las Vegas, NV who caters to the military personnel to help them pass their tape test. They offer complimentary consultation in person or via the phone with photos. Troops fly in to Las Vegas for their competitive prices and extensive experience of nearly 15,000 liposuction procedures performed by Trevor Schmidt PA-C the liposuction specialist. Call 702-818-5476 to schedule a complimentary consultation.