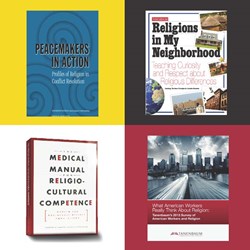 New York, NY (PRWEB) November 07, 2013
During this holiday season, discover new gift options for the people in your life who seem to have everything. This year, the Tanenbaum Center for Interreligious Understanding is offering the Religious Diversity Resource Gift Collection, filled with interesting and practical resources to enhance the life and career of the health care professional, teacher, executive, religious leader, academic and peace activist in your life.
Each gift item can be individually purchased for less than $50 and the complete Tanenbaum gift collection is available online for $149.95 (purchased individually: $185) at https://www.tanenbaum.org/store/religious-diversity-resource-gift-collection.
The Religious Diversity Resource Gift Collection includes:
For the Health Care Professional: The Medical Manual for Religio-Cultural Competence.
Every religion has dozens of tenets that often influence how patients make health care decisions. The Medical Manual examines the health-related beliefs and practices of ten of the world's major religious traditions. Part workbook, part textbook, always easy-to-understand, The Medical Manual walks providers through every step of the unfamiliar territory of religion and health care, helping health care practitioners of all types provide better quality patient-centered care and build strong provider-patient relationships.
"Doctors and nurses don't have to be experts in every religion," said Joyce S. Dubensky, Tanenbaum's CEO, "but they have to know when patients' religious beliefs are affecting the care their patients need and are impacting health outcomes. They have to work with patients' decisions, including those that involve religion—just like they'd work around diabetes, or address poverty or any other variable that affects their patients' health."
Retail price: $39.95 (print edition), $9.95 (ebook edition)
For the Educator: Religions in My Neighborhood
Religions in My Neighborhood: Teaching Curiosity and Respect about Religious Differences is a groundbreaking Tanenbaum curriculum and training program for K-4 teachers. The standards-based guide—created by Tanenbaum and leading multicultural experts—is a tool for addressing a tough topic in the classroom: religious diversity. It allows children to feel comfortable noticing and discussing religious differences and to see those differences as a normal, understandable, and interesting part of their world.
"Some educators are uncomfortable teaching about religion in the classroom," notes Mark Fowler, managing director of programs at Tanenbaum, "and understandably so. That's why we created Religions in My Neighborhood, because it's a practical tool that revolutionizes classroom conversations about religion."
Retail price: $39.95 (print edition)
For the Executive: What American Workers Really Think About Religion
A new national survey released by Tanenbaum reveals that more than one-third of workers report observing or being subjected to religious bias at work. The survey, What American Workers Really Think About Religion: Tanenbaum's 2013 Survey of American Workers and Religion, examines a frequently hidden problem that is demonstrably affecting business success and talent management – religious bias and discrimination against American workers.
Religion is one key way that people define themselves," explained Dubensky. "Being harassed at work because of your religion, or not being allowed to follow basic beliefs such as observing a required prayer is painful. Such experiences affect morale and, ultimately, impact a company's ability to attract talent. The good news is that the survey shows that this can be turned around through smart policies that address employees' diverse religious needs. Do that and you increase the likelihood of having happier employees and less turnover."
Retail Price: $39.95 (print edition), free (PDF download)
For Peace Activists, Religious Leaders & Academics: Peacemakers in Action
Devastating conflicts worldwide are destroying lives and whole communities -- often in the name of religion. Missing from the news are the stories of brave religious individuals in these zones of violence, quiet leaders who provide critical insights and skills to resolve today's most urgent conflicts. Their stories are rarely told -- until now. From Israel to Afghanistan to El Salvador, Peacemakers in Action: Profiles of Religion in Conflict Resolution shares the experiences of 16 such remarkable religious peacemakers. Meet the unknown heroes who put their lives on the line in violent conflicts around the world.
"Perhaps there is no greater grief in the human family as when a brother strikes a brother," said Dr. William F. Vendley, Secretary General, World Conference of Religions for Peace. "But there is no greater power - and joy - as when a brother and a sister come together to heal these conflicts. Peacemakers in Action tells the stories of sixteen such individuals with great empathy, compassion, and impact. May all of us be good students of the powerful lessons offered on these pages. Religious cooperation is a path to peace. We need only follow it."
Amazon.com price: $25.07 (print edition)
The Tanenbaum Center for Interreligious Understanding is a secular, non-sectarian organization that promotes mutual respect with practical programs that bridge religious difference and combat prejudice in areas of health care, workplaces, education and armed conflict.