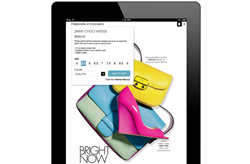 The future of retail is not one big offline destination or one big online destination. The future of retail is a uniform way to be everywhere the consumer is--both online and offline.
New York, NY (PRWEB) November 07, 2013
72Lux launches Shoppable®, a self-serve e-commerce platform that lets bloggers and digital publishers of all sizes sell the products they showcase via a unified shopping cart. Shoppable is a product of 72Lux, the software company with patent pending e-commerce technology that facilitates transactions from multiple vendors without the user/customer having to leave the host content. 72Lux has solved an essential issue with e-commerce for web publishing and is the most sought after alternative to current 'affiliate' relationships that require users to leave the host site to view products and transact. The Shoppable® platform includes access to the 72Lux product catalog of nearly 2 million products and 25,000 brands from all retail categories.
Shoppable is geared toward bloggers and web publishers looking to add a revenue stream from e-commerce. With an ultra simple interface, e-commerce is as simple as copying and pasting an embed code into the content management system (CMS) of the blog or website and then select, which a click of a button, how to display the products on their site. Shoppable® users may also license 72Lux's Universal Shopping Cart and Checkout to keep the user engaged within their website.
Founder Heather Marie says, "72Lux started as a technology solution for large publishers, but we received numerous requests from startups and bloggers wanting to monetize their content through ecommerce. We responded with a product – Shoppable—that makes selling product from multiple vendors on one site available to all digital publishers including bloggers on Tumblr and Wordpress." A Wordpress plugin will be released later this month.