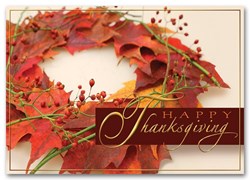 Miami, FL (PRWEB) November 07, 2013
The holiday season is underway, with Thanksgiving arriving in just three weeks. There is still time to send thanks to customers, clients and partners, however. One creative way businesses can give thanks to their stakeholders is by sending custom Thanksgiving cards or holiday chocolates with a special message.
Smart Resolution is offering a unique line of Thanksgiving themed cards. Each card can be printed with one of the offered verses or a customized verse that reflects the company more specifically. Every card has a space for businesses to print their logo, a special message, or an image of their hand written signatures. All holiday cards come with their own matching envelopes that can be printed with the company's return address. These envelopes often include a silver or gold foil lining to match any silver or gold foils found on the cards. There is also the option to upgrade to self-seal envelopes which makes mailing large quantities more efficient.
Thanksgiving is a time to show gratitude for the people and things in your life. It is also a time filled with lavish meals and the sharing of treats. This year, businesses can also give thanks while giving out chocolates, candy and nuts. Keeping with the season, chocolate holiday coins can be molded to say "Thank You" while having a company logo debossed on the back. These delicious coins come in the option of shiny gold, silver, blue or red foil. There are dozens of other customizable options in Smart Resolution's holiday shop that will appeal to any sweet tooth.
Smart Resolution's holiday shop is now open. Customers can still receive 25% off their order of Thanksgiving cards but should consider ordering within the next few days to guarantee a successful holiday delivery.
Founded in 2003, Smart Resolution is an online printing company that offers complete solutions for small businesses seeking value, convenience and professionalism. With a user friendly website and the latest trends in technology, they aim for a growing number of customers to elect them as the online printing company of their choice.