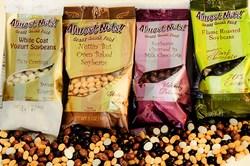 Denmark, WI (PRWEB) November 07, 2013
Almost Nuts! will be featured in the Klutchclub Women's Box, Men's Box, and Mom's Box in the month of November. Klutchclub chose Almost Nuts! because the filling soy nut snack has the lowest count of calories per protein value on the market.
Klutchclub is a subscription-based service that sends a "themed" box, promoting health and well being, to a member's door every month. The hand-chosen items in the box, support members looking to live healthier, active lifestyle and make healthier everyday choices. Members are given samples ranging from healthy snacks to fitness programs. The product samples are worth a combined total of $50 but members receive the box for only $17 per month.
Klutchclub also provides the Best of the Box Club. The samples in this box are worth over a combined total of $75. The contents of the box offer a variety of member's favorite items including personal products, supplements and vitamins, and much more! The unique themed boxes give members something to look forward to every month.
Almost Nuts! saw this as a great opportunity to get their product into the hands of consumers who were already looking for something healthy. The box not only exposes the snack to new customers but it also supports the nutritional lifestyle Klutchclub members are looking to achieve.
Today, Almost Nuts! is proud to offer Oven Baked Soybeans, Milk Chocolate Covered Soybeans, White Coat Yogurt Soybeans, and Dark Chocolate Covered Soybeans. These delicious, healthy soybean snacks are sold wholesale and retail.