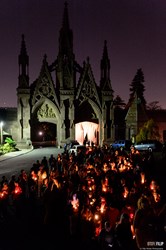 Boss Tweed, Jean-Michel Basquiat, Peter Cooper and Leonard Bernstein surely danced in their graves. — Nicky Digital
Brooklyn, NY (PRWEB) November 08, 2013
It was the night after Halloween – Dia De Muertos. And 200 unsuspecting adventurers were brought by Mariachi band from a bar in Brooklyn, the rendezvous, to the 175-year-old landmark Green-Wood Cemetery. All of it was captured by NYC videographer Priest Fontaine.
VIDEO: Watch Priest Fontaine's web video story, in which Brooklyn event maestros Winkel & Balktick talk about the making of "Memento Mori" here. Additional video highlights from Priest Fontaine here.
The secret-location happening was part immersive theater (among the mausoleums), part Day Of The Dead feast, and part dance party (in the Gothic Revival chapel). The live work, commissioned by Espolón Tequila, is first in a series of event Experiences featuring the vision of emerging artists across disciplines. It was the finalé of a one-week run, with earlier shows in Austin, Los Angeles and San Francisco.
A photo blogger who covered the event summed it up like this in a web post: "Boss Tweed, Jean-Michel Basquiat, Peter Cooper and Leonard Bernstein, all interned there, surely danced in their graves—led by troupe Third Rail Projects—in a three-act performance."
PHOTOS: See photos and read media reports on the show's four-city run:
Austin
From photographer Miguel Angel
ulovei - Search "Memento Mori"
ulovei.com
Los Angeles
From photographer Curious Josh (Reiss)
LA Weekly - search "Memento Mori"
laweekly.com
San Francisco
From photographer Jenny Cash
SF Weekly - search "Memento Mori"
sfweekly.com
New York
From photographer Nicholas Rhodes
Nicky Digital - search "Memento Mori"
nickydigital.com