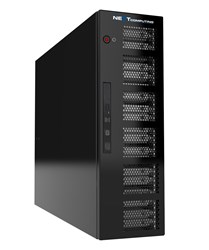 Nashua, NH (PRWEB) November 07, 2013
NextComputing, a leading manufacturer of small footprint, high-performance workstations and servers, has announced the Nucleus EXP - the latest and most powerful addition yet to its Nucleus family of workstation computers. The Nucleus EXP features a mini-tower chassis housing dual Intel® Xeon® E5-2600 v2 series processors, up to twenty (20) internal 2.5" hard drives or SSDs (Solid State Drives), and support for three high-end, dual-width graphics cards. These unique capabilities allow creative professionals working with high-resolution imagery such as 4K and 6K video to work fluidly in real time, freeing them from restrictive and time-consuming workflows.
Traditional workstations are designed primarily for high-end processing and graphics, but often lack fast storage needed for media applications. The Nucleus EXP, in addition to sporting the latest Intel Xeon processors and high-end graphics cards, offers the same level of high-speed storage found on external SAN devices - all in a single, compact system.
This important balance of processing, graphics, memory, and storage empowers content creation professionals, such as those doing effects compositing, color grading, or digital cinema packaging, to work with high-resolution image files unhindered, saving time and enabling a more dynamic creative process. Ideal applications for the Nucleus EXP include:

Adobe® Creative Cloud™ (After Effects®, Premiere Pro®, SpeedGrade®)
Assimilate SCRATCH® and SCRATCH® Lab
Blackmagic DaVinci Resolve
Avid Media Composer®
Autodesk® Flare™
The Nucleus EXP achieves this balance by using a finely tuned combination of the latest hardware technology, designed into a unique and expandable chassis with an elegant, industrial look that NextComputing has become known for. The Nucleus EXP features:
A compact, mini-tower chassis (3U rack height) - 5.25" W x 16.5" H x 20" D
Dual Intel Xeon E5-2600 v2 "Ivy Bridge EP" processors, offering up to 12 cores at 2.7GHz (24 threads with HyperThreading enabled)
Twenty (20) no-tools removable 2.5" hard drives or SSDs capable of sustained data rates over 2,000MB/s
Separate dual (2) no-tools removable 2.5" drives for dedicated operating system and applications disks
Up to three (3) full-length, dual-slot workstation-class graphics cards, such as the newly released NVIDIA Quadro® K6000 or AMD FirePro W9000
Up to 256GB DDR3 memory
1300W 1+1 power supply with optional 2+1 redundant power
Front access slim DVD or optional BluRay optical drive
Optional rack mount kit
Designed, manufactured, and supported in the United States
The Nucleus EXP is available now from NextComputing and its authorized resellers with prices starting at $6,000. NextComputing is actively seeking channel partners to offer turnkey solutions built on the Nucleus EXP. To inquire about pricing or reseller arrangements please email sales(at)nextcomputing(dot)com or call +1-603-886-3874.
About NextComputing
NextComputing is a US-based manufacturer of high-performance computing platforms, with solutions that feature enterprise-class workstation and server architecture in the smallest and lightest systems available. Visit http://www.nextcomputing.com for more information.