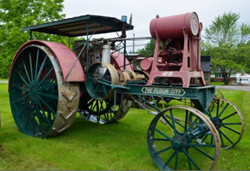 Nokomis, IL (PRWEB) November 06, 2013
During the MarkNet Alliance Meeting held in New Orleans, LA October 20-22, Aumann Auctions, Inc. was awarded the prestigious Personal Property Auction of the Year Award for the success of the Legendary Jim Erdle Collection Auction. Over 1100 registered bidders from 38 states and 9 countries outside of the United States arrived in Canandaigua, NY and took part in a defining point of history as Aumann Auctions broke multiple world records selling The Legendary Jim Erdle Collection throughout the three-day auction.
The second day was the main tent event when the most rare and most collectible tractors were sold. Bidders were nervous, anxious and full of excitement waiting for this auction of a lifetime to start. With standing room only and collectors bidding on-site, by the phone or bidding on simulcast through the Aumann Auctions' website you couldn't help but get goose bumps just by being a part of it.
Aumann Auctions started off by selling one of their Jim Erdle Auction Banners for a local charity chosen by Mr. Erdle. Emotions filled the tent as the bidding started and didn't end until the final bid of the day. A few tractors brought records breaking figures. The 1917 Flour City 40-70 sold for an amazing $375,000, while the International Harvester 45 hp Mogul brought $265,000, just to name a couple.
The three-day auction defined the antique tractor market and was event that will be talked about for decades to come. Results page on the website: http://www.AumannAuctions.com.
Aumann Auctions, Inc., a MarkNet Alliance member, is a full service auction company that is very diverse with over 50 years of experience. The company credits its success largely to referrals and repeat business with satisfied clients. Based in Central Illinois, Aumann Auctions works nationwide and provides clients with a local and national presence, cutting-edge technology, an unmatched base of proven bidders and worldwide exposure through strategic marketing.
To learn more about their services selling land, real estate, business liquidations, personal property and much more please visit http://www.AumannAuctions.com or contact Kurt Aumann at Kurt(at)AumannAuctions(dot)com. The toll-free phone number is (888) 653-8648.