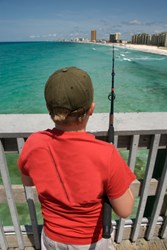 Harbor Docks' Take a Kid Fishing Day
Destin, FL (PRWEB) November 08, 2013
Harbor Docks, a local favorite seafood restaurant, hosts a special fishing event each year with "Take a Kid Fishing Day". Hundreds of children join each year for a day of fishing in the Gulf of Mexico on volunteer charter boats. This year, for the 19th run, the event will be held Sunday, November 3rd at 7am. The boats will return in the afternoon for a Harbor Docks fish fry.
In HarborWalk Village November 9th, local restaurants will break out the best of their barbecue for a craft beer tasting and barbecue competition. Along with great food and drinks, live music will be enjoyed by The Blenders, The Modern Elderado, and The Season Ammons Band. This event is hosted by the Florida Restaurant and Lodging Association's Northwest Florida chapter and proceeds benefit FRLA Educational Foundation. On Sunday, beginning at 11am, visitors will admire a specialty car show throughout HarborWalk Village. Sponsored by Porsche of Destin, car enthusiasts will enjoy the showcase as well as live music, food and drinks along the harbor.
In the Village of Baytowne Wharf on November 16th, visitors can get in the holiday spirit with a sneak peek of the Christmas tree lighting and holiday entertainment from 4pm-7pm. Champagne and great food from Village restaurants will be available. More tree decorating will be viewed in the park at Grand Boulevard for the 4th Annual "Festival of Trees". Beginning on November 26th at 4:30pm, more than a dozen trees will be displayed from local non-profit organizations. The best decorated tree will be announced at 6pm. On November 28th and 29th, Santa Claus will pay a visit to Baytowne Wharf and guests can enjoy choir music, lantern making activities, the grand Village tree lighting, and fireworks finale. At midnight, Silver Sands Premium Outlet Mall will open for featured Black Friday shopping. For those interested in staying overnight, arrangements are available to stay at nearby condo rentals.