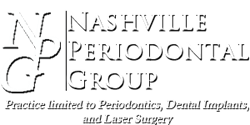 Nashville, TN (PRWEB) November 06, 2013
People wanting multiple dental implants to replace missing teeth can now look to the expertise of Drs. Bill and Will Akin and Brian West of Nashville Periodontal Group and their use of the new technique known commonly as Teeth-in-a-Day restorations. This new procedure allows for the successful placement of implants in one simple, hour-long appointment. This dramatic advance over the standard multi-visit process that often extends up to four or six months gives patients a new, healthy smile in a fraction of the time and with far less discomfort than ever before.
Dental implants are essentially made from two primary components—the titanium posts that are inserted into the jaw bone for stability and the crown that is placed on top of the post and functions as the visible tooth. For even one implant to be placed in a traditional manner, an initial surgery is performed to implant the post after which several months must elapse to allow the post and bone to fuse. At this point, gum tissue often grows around or over the post and must be surgically removed before the porcelain crown can be put into the proper place. This process of multiple surgeries leaves many people wary of receiving an implant.
As testament to their leadership in periodontal treatments, the team at Nashville Periodontal Group is advancing the use of new technology that allows multiple dental implants to be placed at one time—including immediately after an extraction in some cases. Immediate Load Dental Implants, or Teeth-in-a-Day, are restorations that allow placement of posts and crowns at the same time and can literally transform the smile of a person who has missing teeth. The ability to receive implants is a huge benefit for patients, as they provide the most stable solution and are exclusive in their capacity to stimulate the bone like natural teeth. Together, these advantages protect against multiple complications down the road.
Patients with missing teeth that are interested in learning more about how they can have a new smile in only an hour with Teeth-in-a-Day restorations should contact the team at Nashville Periodontal Group at http://www.nashvilleperio.com or 615-457-8292 today.
About The Doctor
Nashville Periodontal Group is a periodontal practice offering personalized dental care for patients in Nashville, TN. Drs. Akin and Dr. West are part of one percent of dental professionals providing the LANAP FDA cleared laser procedure for gum disease treatment. Along with laser dentistry they have a strong focus on patient education on maintaining dental health. To learn more about Nashville Periodontal Group and their dental services visit their website at http://www.nashvilleperio.com and call (615) 800-3686.