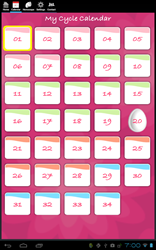 The Hormone Horoscope App shows women how their hormones are impacting their mood, energy, health and more every day. That way, they can compensate for hormonal challenges and take advantage of hormonal benefits.
Saint Petersburg, FL (PRWEB) November 12, 2013
Every day, millions of women check their astrological horoscope to find out how their day will turn out.
However, there's a new, more accurate way for cycling women to predict their day and plan their life: the Hormone Horoscope App for iOS and Android.
This free app created by Hormonology® founder and women's health journalist Gabrielle Lichterman is based on hundreds of scientific hormone studies and shows how the ups and downs of a woman's estrogen, testosterone and progesterone affect her in virtually every way, including her mood, energy, health, romantic life, shopping habits, memory, cravings and more.
Because these hormonal effects repeat the same way month after month, women can predict what their day will be like based solely on where they are in their menstrual cycle with unprecedented accuracy.
To use the app, women simply enter the length of their monthly cycle and the number of days since the start of their last period. They'll then receive a daily easy-to-read summary of the hormonal effects they'll be experiencing.
This app also doubles as a menstrual cycle tracker and offers daily bonus tips for alleviating menstrual cramps, reducing moodiness, revving energy and improving sleep during difficult hormone days. And it shows women the best days of their cycle to schedule activities, such as romantic dates, vacations, job interviews and a bikini wax.
The Hormone Horoscope App can be used by husbands and boyfriends, too, since it shows them what to expect from their partner's moods, energy, romantic interest and more every day.
The free Hormone Horoscope App is currently available for iOS and Android devices at iTunes and Google Play.
ABOUT HORMONE HOROSCOPE APP CREATOR GABRIELLE LICHTERMAN
Gabrielle Lichterman is a longtime women's health and lifestyle journalist whose articles have appeared in dozens of major publications in the U.S.—including CosmoGIRL, Cosmopolitan, Glamour, Marie Claire and Woman's World—as well as worldwide.
Gabrielle is the founder of Hormonology® (the science of how hormones impact your health and behavior) and created the Hormone Horoscope® as a way to dispense this useful information daily.
She's also the author of 28 Days: What Your Cycle Reveals about Your Love Life, Moods and Potential (Adams Media, 2005), which has been translated into four languages. She's currently writing an updated edition of her book.
For more information, visit HormoneHoroscope.com.