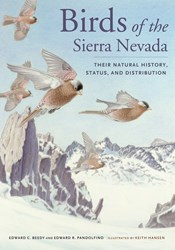 Ted will take us on a virtual transection of the Sierra. Along the way we'll see and hear the stunning diversity of birds that make the Sierra their home.
Rocklin, CA (PRWEB) November 08, 2013
The Sierra College Natural History Museum will present an illustrated lecture entitled "Birds of the Sierra Nevada" by local biologist Ted Beedy on Friday, November 15, at 7:30 PM in Sewell Hall (room 111) on the Sierra College-Rocklin Campus.
Ted Beedy is the author of a new book, Birds of the Sierra Nevada: Their Natural History, Status, and Distribution, co-authored by Ed Pandolfino, illustrated by Keith Hansen, and published by U.C. Press. In this presentation, Ted will take you on a virtual transect of the Sierra from the oak savanna in the west, through serene conifer forests, up into the majestic alpine regions, and down the steep eastern escarpment to the pinyon/juniper woodlands and open steppes of the Great Basin. Along the way we'll see and hear the stunning diversity of birds that make the Sierra their home. We'll learn which birds are in decline and which are increasing. We'll address some mysteries surrounding some of those species and discuss how birders can help to solve them.
Ted first encountered the Sierra Nevada at the age of three months when his parents brought him to their family cabin near Donner Summit. They reported that he has always been a "problem birdwatcher," as he required physical restraint as a three-year-old (i.e., a harness and rope) to keep him from following birds, chipmunks, or ant swarms off into the deep woods. He later earned his "bird watching" merit badge in Cub Scouts, and was hooked for life. Ted received his undergraduate and graduate degrees from the University of California, Davis. He taught ornithology and other biology classes at UCD and California State University, Sacramento before starting his career in 1985 as an environmental consultant at Jones & Stokes in Sacramento. During the more than 20 years he worked at J&S, Ted conducted long-term studies of Tricolored Blackbirds, as well as sensitive bird species at Mono Lake, Kern River Valley, and elsewhere in the Sierra. In 2006 he started his own firm, "Beedy Environmental Consulting," at his home in Nevada City, where he lives with his wife, two children, and a pond full of Mallards and Wood Ducks.
This presentation is part of the Sierra College Natural History Museum's 2013-2014 lecture series, and will be held on Friday, November 15 at 7:30 pm in Sewell Hall, room 111. Tickets are available at the door. Prices are General $5 / Students and Seniors $2 / Museum members free. All proceeds benefit the Sierra College Natural History Museum.
Sierra College serves 3200 square miles of Northern CA with campuses in Roseville, Rocklin, Grass Valley, and Truckee. With approximately 125 degree and certificate programs, Sierra College is ranked first in Northern California (Sacramento north) for transfers to four year Universities, offers career/technical training, and classes for upgrading job skills. Sierra graduates can be found in businesses and industries throughout the region. More information at http://www.sierracollege.edu.
Follow us on Twitter! https://twitter.com/SierraCollege 'Like' our Facebook Page! http://www.facebook.com/sierracollege Sign up for Sierra Alert! emergency text messages! https://www.getrave.com/login/sierracollege