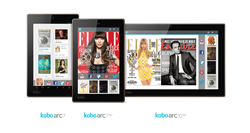 (PRWEB) November 07, 2013
Kobo, a global leader in eReading, today announced its new lineup of Google-certified Android tablets is now available in the US and Canada. The Kobo Arc 7, Kobo Arc 7HD and the Kobo Arc 10HD are now available for purchase at Kobo.com and selected retailers. Designed for Readers first, the tablets feature Kobo's unique user experience, Reading Life, which gives Readers access to nearly 4-million eBooks, provides new, engaging ways to discover content, and allows them to customize their reading experience based on personal preference.
THE BEST TABLETS FOR READERS
The new Kobo Arc lineup runs on Android™ 4.2.2 Jelly Bean, offering beautiful and responsive high definition displays – great for reading, watching movies, playing games, and more. With full access to the Google Play Store, the Kobo Arc tablets deliver the perfect blend of multimedia, with a platform that enhances reading – and keeps it at the forefront of the experience.
Kobo Arc 7" Tablets (starting at $149.99 MSRP)
The Kobo Arc 7HD tablet is powered by the NVIDIA® Tegra® 3 1.7GHz quad-core processor and 1920x1200 display with up to 1080p video playback delivering a crisp, seamless viewing experience. The HD tablet has 1GB of RAM, a front-facing 1.3 MP HD camera, and a battery that lasts up to 8 hours so readers are never at a loss for words. Available in black, the Kobo Arc 7HD retails for $199.99 MSRP with 16GB and $249.99 MSRP with 32GB.
Kobo offers the Kobo Arc 7, perfect for first-time users and families. With a 1024X600 display, MTK 8125 1.2GHz quad-core processor and 1GB of RAM, the Kobo Arc 7 offers a compact, multimedia tablet for reading and entertainment on the go. The Kobo Arc 7 retails for $149.99 MSRP with 8GB.
Kobo Arc 10HD ($399.99 MSRP)
With an NVIDIA® Tegra® 4 1.8GHz quad-core processor and 2GB of RAM, the Kobo Arc 10HD tablet is the best 10-inch HD Google-certified multimedia tablet on the market today for Readers. Boasting a stunning 2560x1600 high-definition display with up to 1080p video playback, the Kobo Arc 10HD makes the perfect companion to enjoy rich content from Kobo's bookstore like magazines, as well as the 1 million+ movies, games, and apps from the Google Play Store. The Kobo Arc 10HD tablet also includes a front-facing 1.3 MP HD camera, dual stereo speakers, WiFi 802.11, Bluetooth 4.0, and Miracast connectivity support for Wi Fi media streaming. With Reading Mode, the battery life is extended from 9.5 hours to more than 10 days. The Kobo Arc 10HD is available in black.
WORLD-CLASS CONTENT CATALOGUE
Kobo offers a catalogue of nearly 4-million titles across 68 languages, and has recently introduced a number of new content offerings, including a dedicated Kids Store with safe-search features and dedicated accounts for kids. For those that devour glossy magazines, Kobo has created the best, visually stunning magazine experience, bringing the world's most popular fashion, science, business, and technology magazines to its Readers. The magazine experience will be available to customers starting in November.
Kids Store – available in North America
Kobo's new Kids Store offers colourful, interactive eBooks, making it easier to find the next great book for children and young adult Readers, with the latest bestselling series, Read Along books, and colourful picture-books. Parents can set up dedicated accounts for their kids so they can safely explore the nearly 100,000 amazing titles from the Kobo bookstore. Parents can also set spending allowances, pre-select books, and adjust search settings to keep kids reading
Magazines – available this fall in North America and Europe
Perfected for Kobo's stunning Kobo Arc tablets, Readers will soon be able to enjoy hundreds of their favourite magazines, with new titles being added every day. Kobo preserves the experience intended by magazine publishers, with a visually rich display that makes reading easy on any tablet or smartphone using Kobo's Guided Reading. Guided Reading replaces panning and zooming around a page with a simple one-tap interface that intelligently moves from one column of text to the next.
From the Web to your Kobo
Pocket's Read It Later feature allows Kobo Readers to save articles and other content from the Web, and seamlessly access it in the "Articles" section of their Kobo libraries. In addition, the Firefox for Android Web browser comes pre-installed on the new Kobo Arc tablets. The Reader feature makes reading online articles easy by removing advertisements, adjusting pictures and increasing font size to show a more clear view of the page they're reading; the browser also offers industry-leading privacy and security features like Do Not Track, Private Browsing, and Guest Browsing.
READING LIFE – A USER EXPERIENCE THAT PUTS READERS FIRST
Kobo puts reading first and takes Readers Beyond the Book with its exclusive Reading Life user experience. The new Kobo Arc tablets give people access to all the content they love to consume enabling them to customize their reading experience based on their preferences. From personalized recommendations to full access to the Google Play Store to customizable bookshelves where they can collect and organize eBooks, magazines, and other multimedia, people can easily access all their favourite content.
To maximize the tablet experience for Readers, Kobo's Reading Mode provides settings to help eliminate distracting notifications from email and apps, adjust the lighting settings, and enhance battery life from hours to days.
In addition, Beyond the Book offers a way for passionate Readers to discover and engage with content by discovering books, Collections, and online material related to their latest reads and areas of interests. Kobo Collections are curated and personalized with Kobo's own editorial voice as well as respected influencers including authors, publishers, and other notable people who are experts in their field.
WHERE TO BUY
In addition to Kobo.com, the Kobo Arc tablets are also available at top Canadian retailers including Indigo-Chapters, Best Buy, Future Shop, The Source, Staples, Walmart, Target, and Toys"R" Us; and will be available mid-November at selected American Booksellers Association independent bookstores in the US*.
*Device model availability varies by retailer. Please check with your local retailer for details.
For more information about the Kobo tablet lineup, please visit http://www.kobo.com/tablets.
About Kobo Inc.
Kobo Inc. is one of the world's fastest-growing eReading services offering nearly 4-million eBooks, magazines and newspapers to millions of customers in 190 countries. Believing that consumers should have the freedom to read any book on any device, Kobo provides consumers with a choice when reading. Kobo offers an eReader for everyone with a wide variety of E Ink eReaders and Google-Certified Android tablets to suit any Reader's style including the award-winning Kobo Touch™, Kobo Mini, Kobo Glo, Kobo Aura, Kobo Aura HD, Kobo Arc, Kobo Arc 7, Kobo Arc 7HD, and Kobo Arc 10HD. Along with the company's free top-ranking eReading apps for Apple®, BlackBerry®, Android®, and Windows®, Kobo ensures the next great read is just a page-turn away. Headquartered in Toronto and owned by Tokyo-based Rakuten, Kobo eReaders can be found in major retail chains around the world.
-30-
For more information please contact:
Rene d'Entremont
Kobo Inc.
Public Relations Manager
rdentremont(at)kobo(dot)com