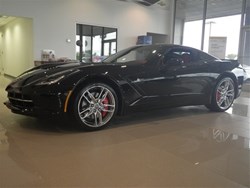 New Boston, TX (PRWEB) November 07, 2013
Coleman Chevrolet, located at 510 Addison Street in New Boston, Texas, welcomed the delivery of its first, all-new 2014 Corvette Stingray last week. The all-new redesigned 2014 Corvette Stingray was first debuted at the 2013 Detroit Auto Show in February, and Coleman Chevrolet has been awaiting its first one to arrive.
The 2014 Chevrolet Corvette Stingray has received many updates for the all-new C7 version. The biggest change is a large upgrade to its fuel economy which, at an EPA estimated 30 mpg in optional Eco Mode, ranks it as the most fuel-efficient sports car on the market. Even in Tour mode, the 2014 Corvette offers an impressive EPA estimated 28 mpg. The new C7 Corvette also has a lighter frame than its predecessors and some carbon fiber body panels, which add another boost to the fuel economy. The exterior of the C7 Corvette Stingray has also been trimmed to make it more aerodynamic and give it a slightly more futuristic look. The 2014 Chevrolet Corvette Stingray has been referred to as "nearly a supercar" but is available at an affordable price and offers fuel economy anyone can appreciate.
Coleman Chevrolet is proud to offer its customers a first-look at many of the new 2014 Chevrolet models. The redesigned 2014 Silverado debuted earlier this year, and has become a favorite among truck buyers. Coleman Chevrolet has been serving the automotive needs of residents in the New Boston and Texarkana areas since 1996. The dealership offers a full line of Chevrolet cars, trucks, crossovers and SUVs, as well as a full line of Chevrolet certified pre-owned and used vehicles. For more information about Coleman Chevrolet, including all the redesigned 2014 models available, you can visit their website or contact them by phone at 903-628-6553.