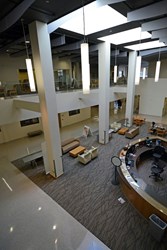 Salt Lake City, UT (PRWEB) November 06, 2013
Salt Lake Community College will host two days of art and educational events Nov. 7-8 to celebrate the opening of The Center for Arts & Media at the College's South City campus.
The $45 million, 130,000-square-foot center will prepare 9,000 students a year in the highly sought-after fields of visual art and design, communication technology, broadcasting, entertainment arts, film, web design and music technology. It's also meant to engage the community with public galleries and exhibit space.
On Thursday, Nov. 7, the new Center will host two events:

The 2013 SLCC President's Art Show, which will showcase dozens of work from Utah artists. The reception and awards ceremony starts at 5 p.m. and will be held in the Center for Arts & Media building on the South City Campus, 1575 S. State Street, Salt Lake City.
Later that evening, at 7 p.m., author and visionary community leader Bill Strickland will speak at The Grand Theatre about the power of art and vocational training to improve lives.
On Friday, Nov. 8, the center will host three events:
High school art students will get the chance to take workshops in art, photography, film and digital media from college faculty at College Day, from 8 a.m.-1:30 p.m.
The College will offer tours of the state-of-the-art center at an open house, from 3-8 p.m.
SLCC will screen the documentary film "Out of Nowhere" and hold panel discussions with refugee college students as well as the filmmakers from 5-8 p.m. at The Grand Theatre.
SLCC's new facility is home to programs, learning spaces, advanced technology design labs, public galleries and exhibit space for the College's School of Arts, Communication and New Media programs, which includes: Visual Art and Design, Communication, Performing Arts, and the Design Institute.