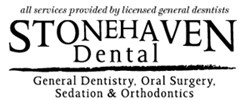 Salt Lake City, Utah (PRWEB) November 07, 2013
As a leading dental office in Utah, Stonehaven prides themselves on customer satisfaction. Anxiety and nerves are often associated with visits to the dentist, preventing many from seeking treatment they need. Utilizing the latest methods for sedation, the professionals at Stonehaven are attempting to cut down on their patient's anxiety levels. With a variety of different options, the company is ensuring that patients are comfortable during their procedures. Among their options are oral medications, nitrous oxide, and I.V. sedation.
For patients needing minor or major treatment, some form of sedation offers them to experience the procedure with little to no recollection. The options offered by Stonehaven are perfect for children or overly anxious patients, causing them to drift off. Oftentimes, patients find that they remained completely unaware throughout the procedure and wake up thinking the treatment had yet to start.
There are various options for sedation dentistry in Utah. Stonehaven offers nitrous oxide, valium or triazolam, and I.V. sedation. Depending on the client, their professionals can recommend the best option making sure they meet the client's needs. The experts at Stonehaven are all trained and certified to perform all the techniques and procedures. Known for their excellent customer service, Stonehaven's addition of new methods is a testament to providing for their patients.
The benefit of sedatives in dentistry is that the dentists can perform multiple procedures in one visit, eliminating the need to return to the office numerous times. I.V. sedation can provide the patient with the ability to sleep throughout the entire visit. It is effective and predictable so they are able to carefully monitor patients and make adjustments throughout the entire procedure.
Less invasive options are also available for minor procedures. Nitrous oxide, or laughing gas as it is commonly known can be very effective in soothing anxious clients that require a minor procedure. Valium and triazolam are an intermediate drugs that can offer an amnesia effect for clients and is an effective and safe way to calm patients nerves. As a leading dental office in Utah, Stonehaven's selection of options provides clients with confidence as they go into their treatment. The experts at Stonehaven can discuss these different options with their clients and help them decide which ones are right for them. For more information, visit their website at http://www.stonehavendental.com.