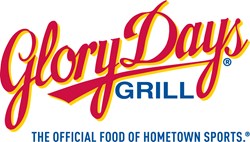 (PRWEB) November 08, 2013
Glory Days Grill, a restaurant company with locations in Virginia, Maryland and West Virginia, and MVP Holdings (MVP) of Tampa, Florida, a private restaurant company owned by Bob Basham, Chris Sullivan and Nick Reader, today announced plans to enter into an agreement under which MVP will spearhead the expansion of the Glory Days Grill brand throughout the entire state of Florida. The initial Florida Glory Days Grill restaurant is slated to open in the first quarter of 2014 in New Tampa, located at 17508 Dona Michelle Drive. The agreement will grant MVP the exclusive right to franchise throughout Florida by either opening Glory Days Grill restaurants which they will own and operate, or by servicing future new Glory Days Grill restaurants that will become franchisees of Glory Days Franchising Company.
Glory Days Grill is an award-winning sports-themed family restaurant known for its commitment to quality food, supporting a variety of local sports groups, and for their community involvement. The company recently announced that franchise opportunities are available in Greater Washington DC, Virginia and Maryland, as well as additional market development opportunities for Harrisonburg and Charlottesville in Virginia and Salisbury, Maryland.
"The addition of such a highly qualified partner into the Glory Days Grill family is an honor for us as well as testament to the hard work, dedication and success that our company has worked to achieve over the 17 years of our history," says Jeff Newman, President and Co-Founder of Glory Days Grill. "Along with my two other co-founders, Bob Garner and Richard Danker, we are excited to expand our brand into the Florida area, and we know that we have the best partner in MVP Holdings to make these next steps successful."
"We are very excited to have the opportunity to grow Glory Days Grill in Florida," says Sam Tancredi, President of MVP GDG, LLC. "The Glory Days Grill concept allows us the opportunity to hire over 100 New Tampa residents. We feel this new concept is a perfect fit for the community."
About Glory Days Grill:
Founded in Fairfax, VA in 1996 by Jeff Newman, Richard Danker, and Bob Garner, Glory Days Grill is a sports-themed family restaurant featuring a wide variety of dining options for every age and preference, outstanding service and real-time entertainment. Every restaurant brings together an award-winning menu with an abundance of televisions tuned to sports, cartoons, news and entertainment with individual speaker stations at each table. Glory Days Grill has won numerous awards, including Best Casual Theme Restaurant, Best American Cuisine, Best Sports Bar, and the Restaurant Neighbor Award, along with receiving accolades for Best Ribs, Best Chili and Best Burger. Most recently, the company was awarded the Fortune 50 Award from SmartCEO Magazine, as well as their 5th McCormick Cornerstone of the Industry Award from the Restaurant Association of Maryland, acknowledging companies that operate as the cornerstone of their communities, through positive job creation, community support and charitable contributions.
Glory Days Grill currently owns and operates 18 corporate locations in the tri-state area comprising Maryland, Virginia and West Virginia plus 2 franchised restaurants in Richmond, VA and one FANFARE Eatery, a spin-off fast casual concept located in Fairfax Corner, VA. The new Florida openings kick off an exciting period of growth for Glory Days Grill. During 2014, the company plans to open three new company-owned Glory Days Grill restaurants and a second FANFARE Eatery, as well as expand its franchising efforts.
About MVP Holdings:
MVP Holdings of Tampa is a private restaurant company owned by Bob Basham, Chris Sullivan and Nick Reader. Sullivan and Basham co-founded OSI Restaurant Partners, now called Bloomin Brands, in the late 1980's. The partners also own and operate PDQ, Carmel Café & Wine Bar and Lee Roy Selmon's.
For more information, visit http://www.glorydaysgrill.com or http://www.glorydaysfranchising.com.
######
For direct contact with Glory Days Grill:
Jeff Newman
703-932-8564
jnewman(at)glorydaysgrill(dot)com