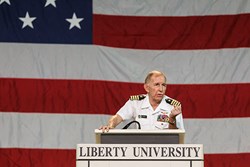 Lynchburg, VA (PRWEB) November 06, 2013
Liberty University's Military Emphasis Week continued Wednesday, Nov. 6, with a Convocation dedicated to the active duty service members, veterans, and families who have sacrificed to protect our nation's freedom. Capt. Gerald Coffee, a decorated U.S. Navy pilot who was a prisoner of war for seven years during the Vietnam War, gave the keynote address.
The ceremony opened with the posting of colors by Liberty's Reserve Officers' Training Corps, followed by a recital of the Pledge of Allegiance, a performance of "The Star Spangled Banner" by The Sounds of Liberty, and a moment of silence for the families of those who have paid the ultimate price for freedom.
When Johnnie Moore, vice president for communications, asked all active duty service members, veterans, or students with family members in the United States military present at Convocation to stand, nearly the entire student body in the Vines Center rose to its feet.
Moore commended the student body for its patriotism. Of the more than 100,000 students studying residentially and online, 20 percent are service members, veterans, or military spouses.
As Coffee took the stage, he said his first trip to Liberty has impacted him in a powerful way.
"I am overwhelmed by you this morning; I hope you know how unique you are," he told the audience. "I have been speaking for 35 years and have never experienced a morning like this with such spiritual and patriotic emphasis. You guys are amazing, and you are moving me in this amazing military Convocation."
He then told students how faith helped him endure his seven-year imprisonment at the communist prison in Hanoi, Vietnam.
Coffee explained that faith in himself, others, America, and God propelled him through the difficult time he faced after his plane was shot down during the Vietnam War. He told students that the lessons he learned could help them with their personal lives as well.
He explained that during his time in prison, anti-American messages were played over speakers for all the POWs to hear. He said that the only way for soldiers to maintain their values and resolve was to communicate through a code of knocks on the wall to encourage each other.
After he returned home, Coffee said he noticed drastic changes in American culture. He urged students to trust God and uphold traditional American values to ensure success in a world that is constantly changing.
"Those seven years taught me that we cannot conduct our businesses, we can't defend our country, we can't educate our youth, we can't make our country a success in a spiritual vacuum," he said. "God equals strength. That's the last line of defense I found that works and can work for any of us."
Military Emphasis Week 2013 kicked-off during a special halftime show at the Flames Football game on Saturday, Nov. 2.
All branches of the armed forces were honored as Liberty's marching band played their respective anthems. The tribute included fireworks, a 21-gun salute, and a moment of silence for those who have paid the ultimate price.
Liberty also honored its fourth recipient of the George Rogers Champion of Freedom Award, Vietnam veteran Lt. Clebe McClary. McClary was critically wounded during an enemy attack, leading to the loss of his left eye and left arm. He has received three Purple Hearts and was presented the Silver Star and the Bronze Star for bravery by the President of the United States. After two years in military hospitals, 30 major surgeries, and countless hours of physical therapy, McClary begin a new life as an inspirational speaker.
Other Military Emphasis Week highlights include a candlelight vigil; an appreciation reception for students, faculty, and staff who are veterans or service members; a VIP panel with special guests from our nation's capital; a 5-mile trail race; and a seminar/webinar hosted in partnership with the Institute for Veteran Education and Training (IVET).
The Office of Military Affairs offers multiple resources to help military students and veterans with academic and financial benefits, and to provide spiritual support.
A full schedule of events is available at http://www.Liberty.edu/MilitaryEvents.
About Liberty University
Liberty University, founded in 1971, is the largest private, nonprofit university in the nation, the largest university in Virginia, and the largest Christian university in the world. More than 100,000 students attend classes on its 7,000-acre residential campus and study in its thriving online education program.