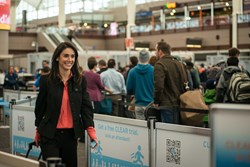 As a company passionate about making travel more secure, we are excited to support our troops here and abroad. - Caryn Seidmen Becker, Chairman & CEO of CLEAR
New York, NY (PRWEB) November 08, 2013
CLEAR is excited to announce a new partnership with Operation Homefront to make it easier for our service members and their families to travel this holiday season. CLEAR is the fastest, most predictable way through airport security and is passionate about supporting those who protect us every day. The new program will give all military personnel (Active Duty, Reserve, Guard and Retirees and their spouse/partners), a free one-year CLEAR membership. CLEAR will also make a donation to Operation Homefront.
CLEAR will give $20 for every new member who signs up with code "Homefront" from November 11, 2013 until December 31st, 2013. Additionally, CLEAR will donate $20 for all new members who join from CLEAR member referrals. The best part is CLEAR will give complimentary memberships to all military personnel and their spouses/partners who enroll through year-end. They just need to visit a CLEAR airport with their military ID and US passport to sign up (clearme.com/enrollment-centers).
"As a company passionate about making travel more secure, we are excited to support our troops here and abroad. To show our support, we want to give back and make it easy for our military and their families to travel back home for the holidays," said Caryn Seidman Becker, Chairman and CEO of CLEAR.
CLEAR and Operation Homefront will be hosting special enrollment days at select airports for military families to sign up for CLEAR. "For many military families, one of the sacrifices of service is frequent travel," said Aaron Taylor, spokesman for Operation Homefront. "Our partnership with CLEAR will help make their lives easier. We're grateful for CLEAR's support for our men and women in uniform."
About CLEAR
CLEAR is the fastest, most predictable way through airport security. CLEAR's secure technology platform delivers speed, reliability and the highest level of service to members at the airport, while also enhancing security. Biometric technology identifies members and speeds them through security in under 5 minutes on average, effectively eliminating lines and transforming travel.
CLEAR will be operational in 9 major airports by year-end. CLEAR operates at San Francisco, San Jose, Denver, Dallas-Fort Worth, Orlando, San Antonio, and Westchester County Airport in New York, with both Houston airports coming soon. CLEAR has a growing base of over 275,000 members nationwide and has already been used over 1.3 million times. CLEAR has also integrated with PreCheck in all CLEAR locations so PreCheck eligible CLEAR members can get the best of both worlds.
Enrollment is fast and easy and can be done at any of CLEAR's enrollment centers (http://clearme.com/enrollment-centers). For more information on how CLEAR is changing the way people travel, visit http://www.clearme.com.
About Operation Homefront
A national nonprofit, Operation Homefront leads more than 4,500 volunteers with nationwide presence who provide emergency and other financial assistance to the families of service members and wounded warriors. Operation Homefront has met more than 750,000 needs of military families since its inception in 2002. Nationally, 95 percent of total donations to Operation Homefront go directly to programs that provide support to our military families. For more information, go to http://www.OperationHomefront.net