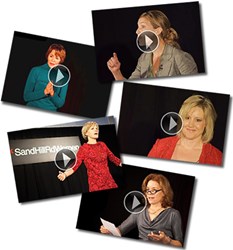 Invented Here!
Menlo Park, CA (PRWEB) November 26, 2013
TEDWomen 2013 will channel the bootstrap spirit of Silicon Valley to celebrate invention in all its forms. Not just technology and things, but also solutions to poverty; approaches to peacemaking; expressions of art, and, at times, our own lives.
Our program this year will feature live speakers (Yoky Matsuoka, VP of Technology at Nest, Marci Harris, Founder of PopVox and Wendy Wallbridge, author of "Spiral Up! Leading Your Life with Power & Grace") as well as streamed presentations from the TEDWomen 2013 event (including world record long-distance swimmer, Diane Nyad).
This is an independently organized TEDxWomen event, officially titled TEDxSandHillRdWomen. This conference is limited to 100 guests, and will be held at the Stanford Park Hotel just off Sand Hill Rd on El Camino Real in Menlo Park on Friday, December 6th, from 1:00pm to 6:30pm.
Doors open at 12:30PM and sessions will begin at 1PM, with refreshments provided throughout the day. Wine and appetizer reception from 5:00 - 6:30 pm. Parking is available at the Stanford Park Hotel.
With the vision to deepen and expand our community and support the women of Silicon Valley to thrive, this day promises to be engaging, inspiring and unforgettable. This event will sell out.
Join our TEDxSandHillRdWomen Facebook Group for quick updates. #TEDxSHR
Website: http://www.tedxsandhillrdwomen.com