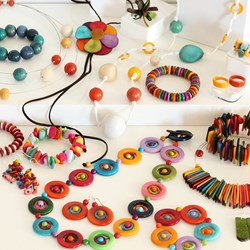 Muichic's new website design educates buyers on its fair trade practices and the significant role of tagua seeds in promoting positive environmental change
Burlington, Vermont (PRWEB) November 11, 2013
It's hard to see what African elephants and South American rainforests have in common, but Muichic (moo.e.sheek) is working to show just that. With the launch of a new website (muichic.com), Muichic hopes to inform and educate conscious buyers on rainforest eradication in South America. With it comes a fight against elephant poaching in Africa. Morph these two significant global issues to discover the essence of Muichic's natural collection. The up-and-coming Burlington-based jewelry company strives for introducing tagua into the popular jewelry market as a sustainable and organic raw material that can also be used as a replacement for ivory.
Playful Jewelry With Purposeful Efforts
The seed-bearing fruit of the tagua palm naturally grows in abundance in the South American rainforests. When dried, the tagua seeds are often referred to as "vegetable ivory", as they resemble ivory in color, texture, and hardness. It did not take long to discover the value of this natural product. The fallen fruit is harvested from the ground and stimulates the economy as a newly sought-after resource. Demand from foreign countries rediscovering the benefits of tagua has given the locals an economic boost. Tagua is providing an alternative for locals to cutting down rainforests for farming.
The ivory-like characteristics of the tagua seed have accredited the palm with its formal name, Phytelphas aequatorialis. Phytelphas is derived from the Greek words phyton (plant) and elephas (elephant). A harsh and illegal industry of elephant poaching for their valuable ivory tusks is reason enough to see potential in the elephant plant for an ivory substitute.
What's in a name?
Bringing environmental issues into the fashion realm may seem like a lofty effort. Yet wearing jewelry ethically handmade of the tagua seed shows support for the causes with an unspoken advocacy. Muichic's ambition is for the fashionista to meet the environmentalist, expressing a stylish, eco-chic look. The logo design strives to express this commitment. The green, environmental "i" in "muichic" alongside the fuchsia, stylish "i" shows the company's commitment to eco-fashion.
The passion behind the jewelry in the colorful collection is not hidden. Muichic's new website design educates buyers on its fair trade practices and the significant role of tagua seeds in promoting positive environmental change. Good things certainly do come in small packages.
For more information please contact Andres Arango at (802) 489-0521 or info(at)muichic(dot)com or visit muichic.com.