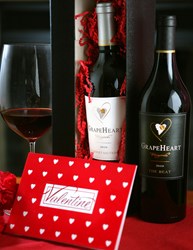 As the wife of a heart surgeon, I've learned that the number one killer of women today is heart disease.
Napa, CA (PRWEB) November 07, 2013
GrapeHeart Vineyards announced today they are giving 20% of online proceeds on special wine bottle gift packages to the Sister To Sister (http://www.sistertosister.org/) charity to honor their commitment to heart health. Heart health is a pivotal reason for the launch of this gift program, and a passion of the founders.
"As the wife of a heart surgeon, I've learned that the number one killer of women today is heart disease. The statistics will shock you because as a society we tend to think of men as having heart attacks, but women are frequently the victims, and exhibit different warning signs," explains Isabel Deeik, the founder and proprietor of GrapeHeart Vineyards. "We chose to give 20% of our online sales back to Sister To Sister because we believe so deeply in this cause," Deeik continues, "and why not focus on Valentine's Day as a natural time to bring attention to this important topic?"
Timed for February 14, the winery is providing the charitable donation on all wines on the website. These wines include a Cabernet Sauvignon and a Cabernet blend, called The Beat, both sources from the Deeiks' estate vineyard in Suisun Valley (directly contiguous and southeast of Napa Valley).
For The Beat, the winemaker, Frederic Delivert, crafted a blend of 56% Cabernet Sauvignon, 27% Syrah and 17% Cabernet Franc into an outstandingly elegant wine which is delicious now and will also benefit from cellaring. The wine's initial release—the 2010---won a gold medal and "Best of Class" at The Women's Wine Competition in Sonoma last year; the wine also won Best of Solano County at The North Coast Wine Challenge this summer. The wine is available at http://www.grapeheartwines.com in 750ml for $69.00 as well as a magnum with an embroidererd label for $125.
GrapeHeart Vineyards also offers GrapeHeart Cabernet Sauvignon: the current release is the 2010, at $54.00; it is available at http://www.grapeheartwines.com or by calling 707/332-0253. Also made by Delivert, this wine won a silver medal at the 2013 U.S. National Wine Competition this April.
Founded in 2009 GrapeHeart Vineyards is a limited production winery owned by a Napa/Sonoma heart surgeon, Ramzi Deeik and his wife, Isabel. GrapeHeart makes an elegant Cabernet Sauvignon and a Red Blend. The GrapeHeart Estate Vineyard is located in the Suisun Valley AVA, a unique eight mile long valley southeast of Napa. The estate sits on 40 acres, backing up to the base of the southwestern slope of the Mt. George Range. Suisun Valley lies within Coastal area climates characterized by cool moist winds blowing inland from the ocean and San Francisco/San Pablo Bay allowing for perfect, slow ripening and enhancing complexity and intensity in the fruit on the vines.
The winery also offers jewelry inspired by the passion and love of making and drinking fine wine. The bracelet and necklace with the GrapeHeart signature heart and grapes uses Silver with Gold Plated Leaf on an Italian 18" sterling silver bead chain. The jewelry is handmade by famous jewelry designer Kader Yildiz and 40% of all proceeds go to the Sister to Sister foundation.
Follow GrapeHeart Vineyards on Facebook for news of the next public tasting or event where the winery will be pouring its 2010 The Beat and 2010 Cabernet Sauvignon.
Sister To Sister Foundation
The Sister To Sister Foundation, a 501 (c)(3), is the first organization to dedicate its mission to the prevention of heart disease in women. As the leading provider of free heart health evaluations in the United States (?), Sister to Sister has performed 100,000 free cardiovascular screenings to help women understand their personal risk for heart disease, and how healthy lifestyle choices can reduce that risk up to 82%. For more information, visit http://www.sistertosister.org, https://www.facebook.com/sistertosister, https://twitter.com/sisterhearts, http://www.pinterest.com/sisterhearts/.