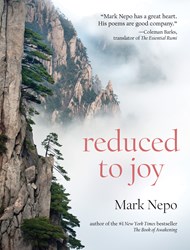 (PRWEB) November 07, 2013
At Oprah's home in Hawaii, best-selling author and poet Mark Nepo opens up about how battling cancer led to a profound spiritual awakening. He will be appearing on two consecutive episodes of Super Soul Sunday beginning this Sunday, November 10th, and commencing next Sunday, November 17th. Tune in Sunday at 11 a.m. ET/PT on OWN, or join our worldwide simulcast on Oprah.com, Facebook.com/owntv or Facebook.com/supersoulsunday.
Mark Nepo will be appearing at events around the San Francisco Bay Area this December. Join him at Books, Inc. Opera Plaza, San Francisco on December 4th at 7pm; Book Passage Marin, Corte Madera on December 5th at 7pm, and Pegasus Books, Berkeley on December 6th at 6pm.
Reduced to Joy
By Mark Nepo
Mark Nepo, the New York Times bestselling author of The Book of Awakening, has been called "one of the finest spiritual guides of our time," "a consummate storyteller" and "an eloquent spiritual teacher." Now in his sixties, he has written Reduced to Joy, a book of seventy-three poems about the nature of working with what we're given till it wears us through to joy. Nepo says, "Poetry is the well from which all my books rise. It's where I always go to listen, always stunned by what arrives. I bring these poems back from the deep like shells from the sea that we can look at together." Profound and accessible, Nepo's poems are tools for staying close to what matters.
What people are saying about Reduced to Joy:
"Mark Nepo's Reduced to Joy can change how you approach the challenge of any day."
—Oprah.com
"Mark Nepo's latest poetry collection is about softening the heart, letting go, while also becoming embracing the whole human experience."
—ForeWord Reviews
"He goes straight to the heart of pain, happiness, adversity, and accomplishment to find the gift that lives within the moment. He retrieves those gifts and expresses the truth of them in words that inspire and uplift in a sustainable way."
—Anna Jedrziewski, Retailing Insight