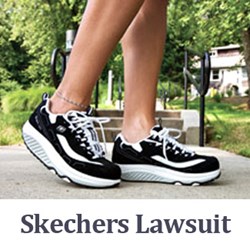 If you have been injured by Skechers Shape-Ups or Toning Shoes, Contact Wright & Schulte LLC at 800-399-0795 or visit yourlegalhelp.com for a FREE Skechers lawsuit consultation.
(PRWEB) January 12, 2014
A Georgia woman has been identified as the plaintiff in a Skechers lawsuit claim recently filed by Wright & Schulte. This case alleges that the plaintiff broke multiple bones in her left ankle and leg due to the unstable design of Shape-Ups.
Another Skechers lawsuit claim has been filed Wright & Schulte's attorneys on behalf of a Georgia woman. This case (Case No. 3:13-cv-00578-TBR) is part of MDL 2308 filed in the U.S. District Court of the Western District of Kentucky, Louisville Division. Court documents for this Skechers lawsuit claim argue that the design of Shape-Ups was responsible for causing the plaintiff to fall and break multiple bones in her left ankle and leg. This Skechers lawsuit also alleges that Skechers has misrepresented Shape-Ups as being safe and providing health benefits to wearers without any scientific proof to back up these claims.
Wright & Schulte has filed over 300 Skechers Lawsuits all of which allege the Plaintiffs' use of Skechers Shape-Ups have resulted in serious injuries including:

Fractures of both the tibia and/or fibula
Foot/Ankle Fractures
Torn Meniscus
Achilles tendon
Humerus Break
Other Serious Injuries
Multiple Bone Fractures Caused by Shape-Ups, Skechers Lawsuit Alleges
According to the complaint for the Skechers lawsuit claim (Case No. 3:13-cv-00578-TBR), the plaintiff bought Shape-Ups in June 2011 after seeing a number of ads that claimed that wearing these toning shoes could improve her health. Specifically, Skechers ads stated that wearing Shape-Ups could help wearers get in shape, improve their overall muscle tone and improve both their circulation and posture.
The complaint further states that within one month of regularly wearing Shape-Ups, in July 2011, the plaintiff was walking on a flat surface when the unstable rocker bottom of one of her shoes caused her left ankle to buckle and her to fall. The fall resulted in immediate, severe ankle and leg pain, which led the plaintiff to seek emergency medical care. After having a CT scan, the plaintiff was told that she had broken several bones in her left ankle and leg and that she would need to undergo multiple surgeries to repair these fractures. Despite these surgeries and extensive physical therapy, however, the plaintiff still reportedly has limited use of and constant pain in her injured left ankle and leg.
According the Skechers lawsuits filed by Wright & Schulte LLC, the manufacturer of Skechers Shape-Ups allegedly marketed their toning shoes by touting their purported ability to enable a user to "Shape Up While You Walk," and "Get in Shape without Setting Foot in a Gym." However, a study conducted by the American Council on Exercise (ACE) in 2010 raised serious questions about the efficacy and safety of Skechers Shape-Ups. By 2011, Consumer Reports had revealed that Skechers Shape-Ups and similar shoes had been the subject of more injury complaints than any other product in its database.
[acefitness.org/getfit/studies/toningshoes072010.pdf, ACE, August 2010]
[consumerreports.org/cro/news/2011/05/are-toning-shoes-unsafe-reports-of-injuries-raise-concern/index.htm, Consumer Reports, May 2011]
In May 2012, the manufacturer of Skechers Shape-Ups agreed to pay $40 million to settle charges with the Federal Trade Commission (FTC) that it had made unfounded claims that Shape-Ups would help people lose weight, and strengthen and tone their buttocks, legs and abdominal muscles. While the settlement provided consumers with refunds for the purchase of their shoes, it did not include compensation for any personal injuries allegedly caused by Skechers Shape-Ups.
[ftc.gov/opa/2012/05/consumerrefund.shtm, FTC, May 16, 2012 ]
Wright & Schulte LLC continues to offer free Skechers injury lawsuit consultations to anyone who suffered a serious injury while using Skechers Shape-Ups, including fractures, torn meniscus, and tendon damage. For more information on filing a Skechers lawsuit, or to arrange for a free legal consultation, please visit yourlegalhelp.com, or call 1-800-399-0795.
About Wright & Schulte LLC
Wright & Schulte LLC, an experienced personal injury firm, is dedicated to the belief that America's legal system should work for the people. Every day, the attorneys of Wright & Schulte LLC stand up for the rights of people who have been injured or wronged by defective drugs and their side effects, complications from defective medical devices, and unsafe consumer products. We will fight tirelessly to ensure that even the world's most powerful corporations take responsibility for their actions. If you're looking for a law firm that will guarantee the aggressive and personal representation you deserve, please do not hesitate to contact Wright & Schulte LLC today. Free case evaluations are available through yourlegalhelp.com or by calling 1-800-399-0795.
Contact:
Wright & Schulte LLC
812 East National Road
Vandalia, Ohio 45377
1-800-399-0795
http://www.yourlegalhelp.com